R & P Prints Screen Printing Toronto
The Quality • The Service • The Extras • Screen Printing and Embroidery all under one roof
From t-shirts, sweatshirts and polo shirts to tote bags, scarves and team jerseys, R & P Prints is one of Canada's leading screen printing and embroidery companies. They've been a leader in custom screen printing in Toronto and is a trusted Canadian company.
Increase Brand Awareness and Improve Recognition with Your Logo or Eye-Catching Designs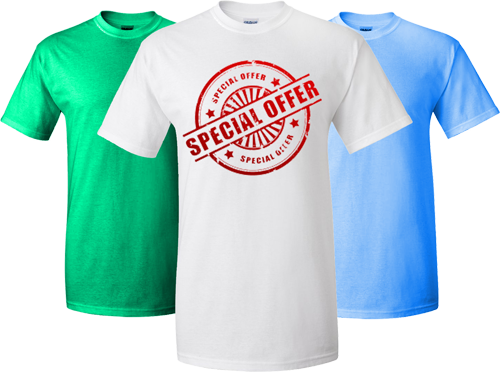 Whether you're going to a trade show, a sales retreat, or planning a team-building weekend, having customprinted clothing and sales promotion products is a great way to increase brand awareness, improve recognition and boost morale with your logo or an eye-catching design.
Trade Shows and Custom Screen Printed T-Shirts in Toronto
Vendors whose staff wear custom printed t-shirts and have custom giveaways always have a line-up of attendees interested in learning more about their products and services.
Examples of Custom Tees at Trade Shows in Toronto
One large company had their staff in brightly coloured purple polo shirts to promote the website of their new educational video game. Another small Toronto retailer had their logo embroidered on sports caps as a giveaway. A few vendors also offered notebooks and t-shirts.
R & P Prints is a Leader in Wholesale Screen Printing in Toronto
R & P Prints provides free estimates, free delivery, no setup fee, a huge selection and great prices. They are a leader in providing wholesale screen printing in Toronto and surrounding areas. They've been around of a long time and you should only use the best when it comes to screen printed custom clothing.
One of the most popular vendor tables at the showcase was a children's entertainment company promoting their new baseball related TV show. The event staff wore baseball tee's with red sleeves. The tee's—with their custom logo screen printed on the front— really distinguished them from some of the other vendors.
In fact, the kids would run up to the event staff to ask them for baseball pitching tips. The tee's made the staff look like they were real athletes so it was easy to see why they had a very popular table with loads of traffic of both kids and parents.
R & P Prints has relationships with some of the best clothing vendors in the business including American Apparel, Gildan and Hanes just to name a few. They can provide clothing products for men, women, youth and children. R & P Prints is the number one source for screen printing in Toronto.
What better way to promote your brand or company than to have your custom design or logo printed right on the front! R & P Prints can provide the best services for screen printing in Toronto.
Custom Screen Printing is an Artform
The process of screen printing involves creating a screen or "stencil" and using that screen to apply layers of ink on the surface of the apparel or accessory. Screen printing makes the design or logo vibrant and long lasting. Great for printing on dark shirts or specialty products.
The screen printing process will provide designs that wash well and maintain print quality on apparel over time.
Leave a Valuable Impression with Potential Customers
Attendees of the showcase event left with a swag bag full of goodies. The day was also full of information overload— parenting advice, how-to books, video resources and of course, lots of shopping.
There are so many ways to lose the attention of potential customers, clients and even internal team members these days.
But on the other hand, there are so many opportunities to leave a valuable impression with potential customers by employing promotions and events that include custom sweatshirts, jackets, hats and specialty products.
R & P Prints can help you impress your company, customers and industry competitors with eye-catching custom screen printed or embroidered clothing. They stand by their products and work. Contact a customer service rep for more information about wholesale screen printing in Toronto and visit our website at www.printscanada.com