Custom Screen Printing in Toronto, Canada.
R&P Prints Canada is a Toronto-based, nation-wide leader in custom printing for apparel and accessories. We have built great relationships with some of the world's leading clothing manufacturers, including American Apparel, Gildan, Hanes, Bella, Alo, Jerico and others. These partnerships keep R&P Prints continuously at the forefront of fashion and innovative products and services.
We have been screen printing custom designs in Toronto, the GTA and throughout Canada for years, and our name is trusted all across the country. We utilize several techniques to achieve your desired results and are always available for consultation and collaboration to help you fulfil your custom printing needs.
We offer a large assortment of products with a wide variety of each type that are best suited for custom screen printing, allowing you to select the perfect garment for your promotions, events, uniforms or giveaways. Some of our more popular screen printing services include: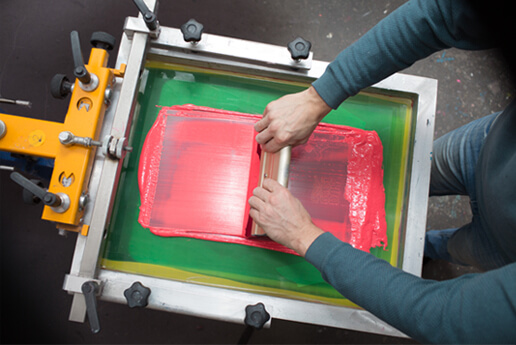 We carry clothing styles and sizes for men, women, youth and children. We also offer accessories, bags and scarves - all of which can showcase your custom designs or logos and promote your company for years to come. We've partnered with countless businesses, associations, teams and organizations that have successfully used custom screen printing and embroidery to distinguish themselves from the competition and raise brand awareness. We have also worked with a number of Canadian schools and universities, providing custom screen printing for their athletic teams.
Our custom screen-printed t-shirts are ideal for large events, and over the years, we've delivered custom screen-printed t-shirts across Canada to help organizers, security and event staff manage major concerts, events and festivals.
We stand by our products and our work - you and your team will be impressed by our product offerings and thrilled with our prices. Contact one of our professional customer service representatives today for more information about custom screen printing in our Toronto printing house.