Professional Custom Screen Prints
R&P Prints is your source for custom screen prints. We custom print anything from clothing to accessories for men, women, and children. Our custom screen prints service business needs that range from sales promotions to special events to advertising campaigns.
At R&P Prints, we are committed to customer satisfaction. We strive to help clients meet their objectives, whether that be to boost sales, enhance product or brand awareness, or promote a special event. Whatever the project, and regardless of the size, we are always focused on delivering the highest quality product and a level of customer service that is unmatched in the business.
Our team works with companies large and small, ranging from athletic teams to organizations to schools. We handle every screen-printing assignment with the same attention to detail.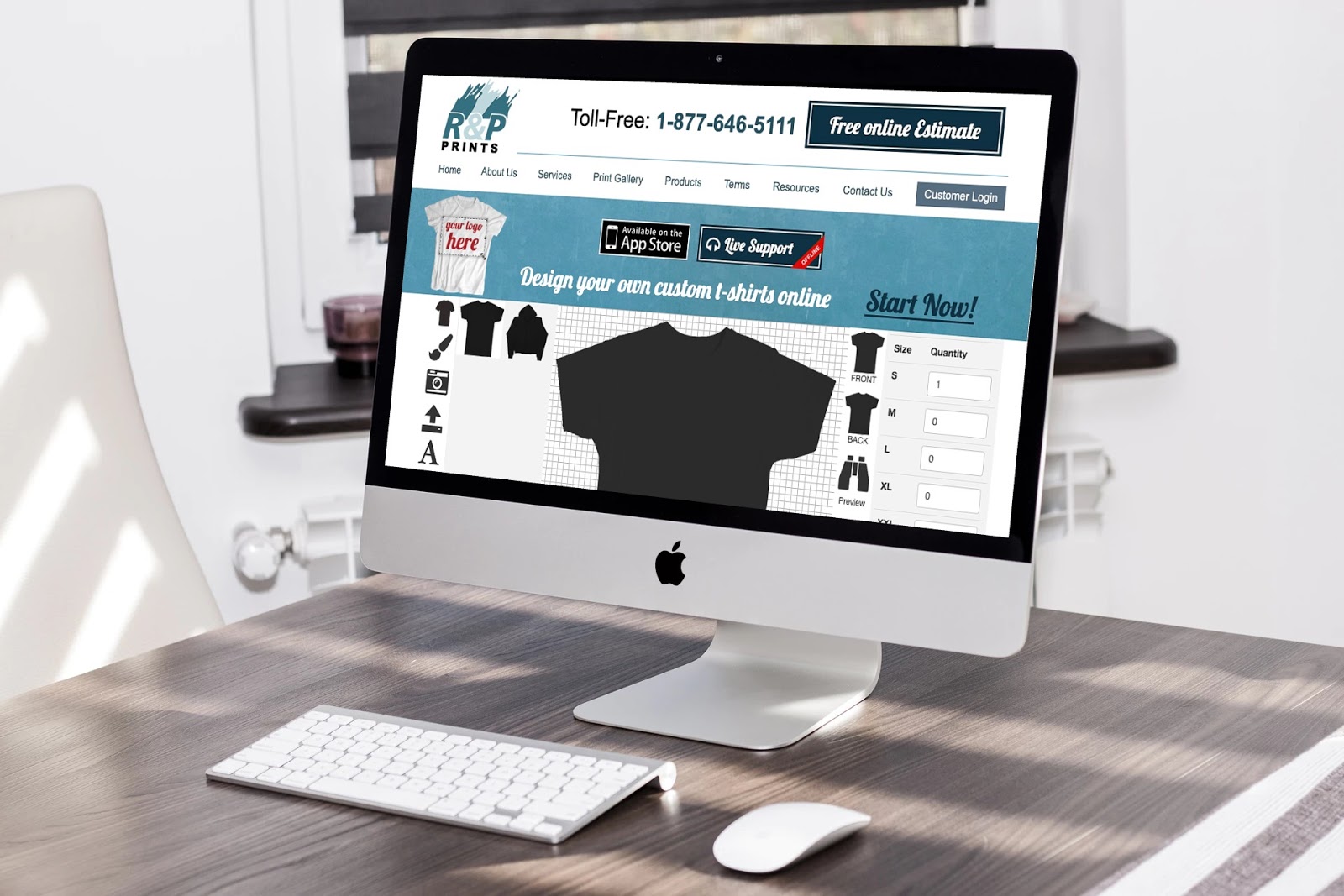 Your Options for Custom Prints
R&P Prints offers some of the best names in apparel for your custom screen prints including American Apparel, New Balance and Nike. Our state-of-the-art technology ensures that we are able to complete custom prints effectively and efficiently.
We apply custom screen prints to a wide selection of items, including:
Understanding Custom Screen Prints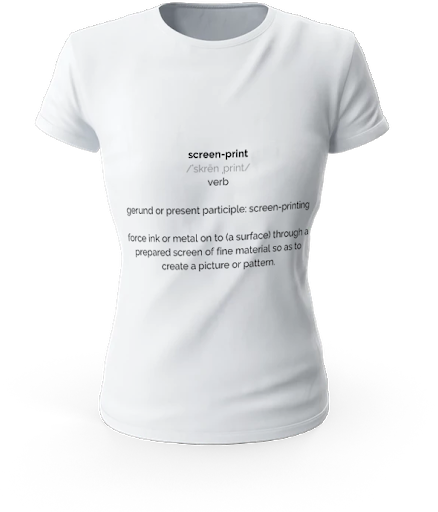 We apply custom prints using the technique of screen printing. This is when a screen — a stencil of sorts — is used to apply ink to a substrate. A different screen is used for each individual colour layer to ensure a vibrant pigment and long-lasting quality. The ink used in this technique is thicker than that used for digital printing.
Digital printing, unlike screen printing, applies a digitally designed image. This tends to fade faster and doesn't result in the same vibrant colours. Screen printing is one of the most effective printing techniques because it is long-lasting, pigmented and automated.
The automated screen printing process ensures that your customs screen prints are done properly, on time. Custom screen prints can be applied to a bulk volume of items if needed for an event or other promotional purposes.
Due to the efficient screen printing process, we are able to apply custom screen prints effectively and in a timely manner. Our state-of-the-art equipment, qualified staff, and eye for detail ensure that we can meet deadlines without sacrificing quality and accuracy. We will work with you every step of the way to ensure your vision is achieved.
Key Screen Printing Terms to Know:
Consult our detailed glossary for a full list of relevant printing industry terms, to help you educate yourself before embarking on your custom screen print project.
Durometer: This is the unit used to measure the hardness of a squeegee blade. A squeegee blade is what is used to apply ink through a printing screen onto a substrate in the screen printing process.
Halftone: A grayscale image or colour that has been converted into large and small dots for accurate screen printing. Halftone dots come in different types, but the elliptical dot is the shape most ideal for screen printing use. A halftone line count is an indicator of the amount of dots in a screen print.
Off-contact Screen printing: This screen printing tactic creates a gap between the substrate and the screen to improve the printing quality.
Plastisol: The ink most commonly used for custom screen prints. The ink is comprised of colour pigments, plasticizers, and PVC.
Professional Equipment
In today's competitive business environment, custom screen prints require state-of-the-art equipment and the latest technology. We use both manual and automatic equipment for our screen printing services for varying purposes.
That said, the production rate of an automatic screen printing press is much higher than that of a manual press. This technology also results in higher quality print results.
Our efficient technology and experienced team of staff ensure that we get the job done properly and on time. There is no reason to sacrifice quality for a quick turnaround when you can have both.
Our Team of Custom Screen Print Experts
The R&P Prints team is comprised of highly skilled and experienced production professionals who understand screen-printing and appreciate that every job we do is a custom job. Our carefully selected staff of professionals deliver the kind of products that keep clients satisfied.
All our production facilities are under one roof, with sales reps, graphic designers and producers working together to meet seemingly impossible deadlines.
A Focus on Customer Satisfaction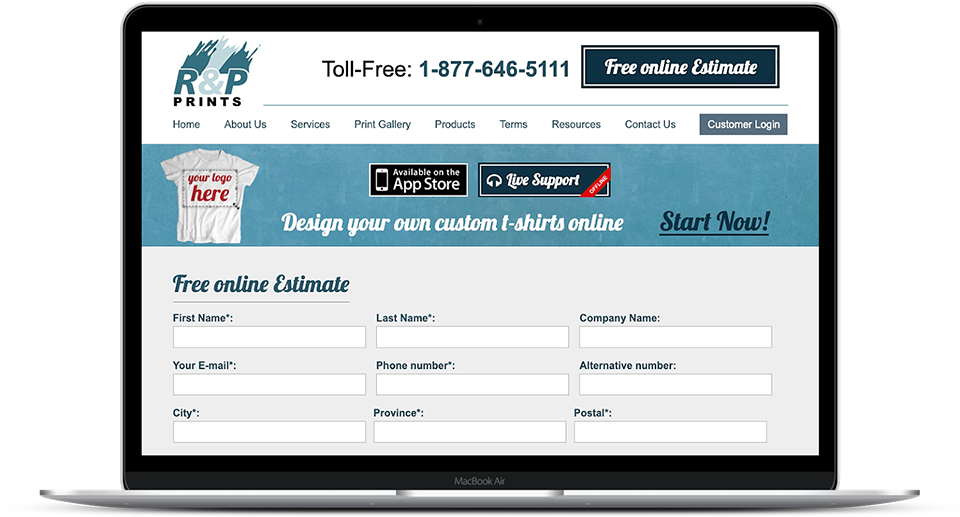 R&P Prints has always placed an emphasis on excellent customer service. Our customer associates work with clients one-on-one and keep them involved in each step of the production process to accommodate their unique needs. We do our very best to maintain deadlines and to make sure that budget guidelines are followed.
Our approach to customer service is based on a personalized "hands-on" style that contributes to a productive working relationship while enhancing a smooth flow of production.
We offer extended business hours (which helps when deadlines are tight and demanding), and our personal "live-chat" system allows for one-on-one interaction with project representatives.
In addition to fast turn-around time, we are also proud to offer the best prices in Canada. We have no set-up fees, no delivery charges, and our prices continue to be the most competitive in the market. Quality prints shouldn't break the bank. order
Ordering Your Custom Screen Prints
We ask that when you send us artwork for a custom screen print, it is created in a vector-based program and then sent in the original formal. If you don't have vector artwork, we will accept it in other forms. Be sure to review our artwork requirements before proceeding with our request.
About R&P Prints: Printing Industry Experts
R&P Prints has made a name for itself as one of the fastest-growing printing companies in Canada. We have built a reputation as a one-stop, full-service, custom-printing solution provider that companies and individuals can count on.
Our team has experience creating custom screen prints for groups, athletic teams, schools and event staff for purposes ranging from concert management to brand promotion. We understand the importance of branding and flexibility when ordering printed apparel.
When you choose R&P Prints for your custom screen prints, you are choosing the convenience of free estimates, free delivery, flexibility, and fair prices. Fill out our form online for a free custom print estimate.