Custom Holiday Promotional Apparel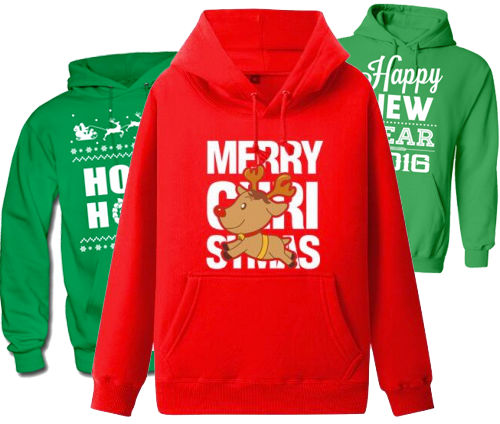 If you're looking to do something different at your next office or corporate party, R&P Prints can help. Promotional holiday apparel let's your company stand out. Our high-quality products are comfortable and look great so your employees, associates and shareholders will love wearing them. Our custom holiday promotional apparel options give you a chance to put your brand and design ideas front and centre at your next company gathering.
R&P Prints offers a large selection of apparel for the holidays including shirts, pants, jackets, hats and more. We are proud to say that we deliver high quality and comfortable products that look great and wear well. We know that it's important to look sharp around the holidays and to feel good around family, friends and co-workers or clients.
Why customize your company holiday apparel?
Make your brand stand out with custom holiday promotional apparel. We can produce apparel for men, women and children and have worked with Toronto universities, schools, athletic teams and businesses of all sizes. When you customize your holiday apparel with R&P Prints, we are giving you a promotional service you can wear. Plus, everyone loves receiving swag at parties whether it's an employee birthday celebration, end-of-year bash, cross-promotional party, business to business event, or company holiday celebration. Custom promotional apparel for the holidays sets you apart from your competitors and makes a nice gift for your staff, shareholders and event attendees.
Products for all occasions
Our products are customizable. If you have an idea for design or team will turn it into a reality. Our state-of-the-art automatic and manual screen printing and embroidery equipment can createcustom holiday promotional apparel for your company such as T-shirts, hoodies, sweatpants, shirts, scarves, jackets, hats and tote bags. If it's wearable item, we'll turn it into a branded wearable item that features your company logo, design or whatever else you want. The custom apparel that we create is designed with you, the customer, in mind. If you have a vision that goes beyond traditional holiday apparel, we'll make it happen easily.
Your budget, your timelines
At R&P Prints our goal is to ensure you get the custom holiday promotional apparel that you want at a competitive price, on time. Our exceptional design and printing team will create customized apparel that's comfortable, looks great and promotes your brand. We have outstanding relationships with some of the most prominent, trusted vendors in the industry like Gildan, Hanes, Jerico and more. These relationships allow us to offer you quality products that last, wash well and fit comfortably. We can produce full size ranges to ensure that every one of your employees has promotional holiday apparel to wear. Furthermore, we offer on-site graphic design expertise, live chat with our representatives as needed, quick turnaround and free nationwide delivery for 12 pieces or more.
Have a great idea for the holidays this year? We can make it happen!
R&P Prints' team of designers and associates will take your idea and turn it into fashionable apparel that showcases your brand and company. Besides our on-site design services and fast turnaround, we offer free estimates. Call us toll free at 1-877-646-5111 or visit our website for more details. We'll help turn your next office party into a fashion show with holiday promotional apparel. Say season's greetings with custom holiday promotional apparel for your next corporate party or event!
R&P Prints uses only state of the art manual and automatic equipment. Specializing in custom screen printing, printing embroidery, we guarantee to provide great print results every time