Professional Custom Screen Printing Services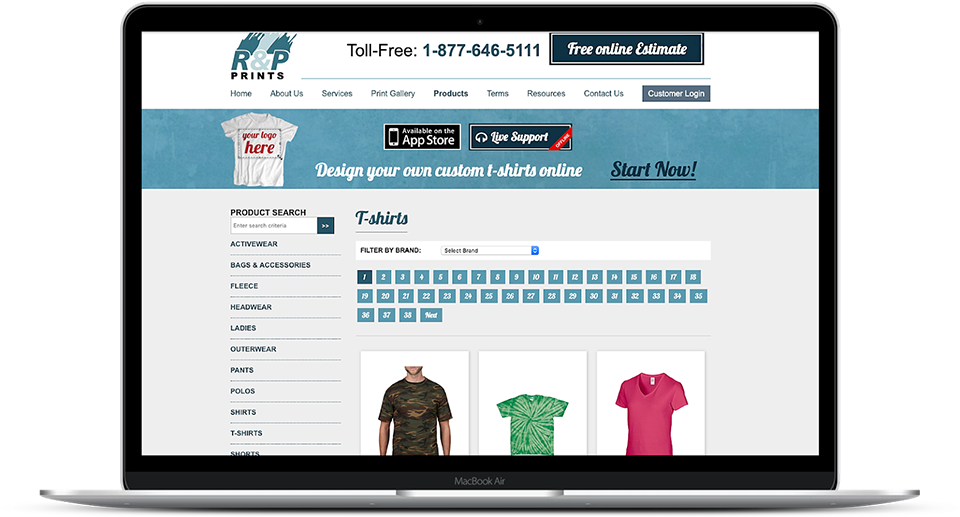 Screen printing is a printing technique that ensures vibrant and clear prints on any substrate of choice. At R&P Prints, we offer professional custom screen printing services in Canada for brands, companies, and individuals.
We are a trusted source for branded clothing, promotional products, specialty items and more. You can count on R&P Prints for your upcoming sales promotion, annual special event or ongoing ad campaign. We offer everything from golf shirts to team jerseys to t-shirts.
With a high level of customer service, we provide large and small companies with custom screen-printing services. We carry top name brands like Gildan, Hanes, American Apparel, Jerico, and more for you to choose from when designing your custom print.
With the help of our screen printing experts, your custom printed material can increase brand awareness, promote a special event, enhance product recognition and more. In the end, we know that it's all about boosting sales.
Our team works with customer satisfaction in mind. We keep all of our operations in-house, so that our sales reps, designers and production teams can work with you to make sure your vision comes to fruition. Our streamlined process allows us to create and produce in an efficient manner that enables us to meet the most seemingly impossible deadlines.
As industry leaders, we're always on the lookout for new products, production systems, and printing techniques. At R&P Prints, we guarantee your satisfaction. Learn more about our professional custom screen printing services today!
Experts in Custom Screen Printing
The team at R&P Prints handles every project with close attention to detail — regardless of the project scope. We use state-of-the-art screen printing equipment (manual and automatic), and the latest in printing technologies.
We are proud of the quality workmanship that we put into each job and the consistent results we produce. Equipped with a staff of skilled, dedicated professionals who boast expertise and experience in the industry, we are able to provide custom screen printing services that you can count on. Every job is customized to suit your vision and meet your tight schedule.
What We Custom Print: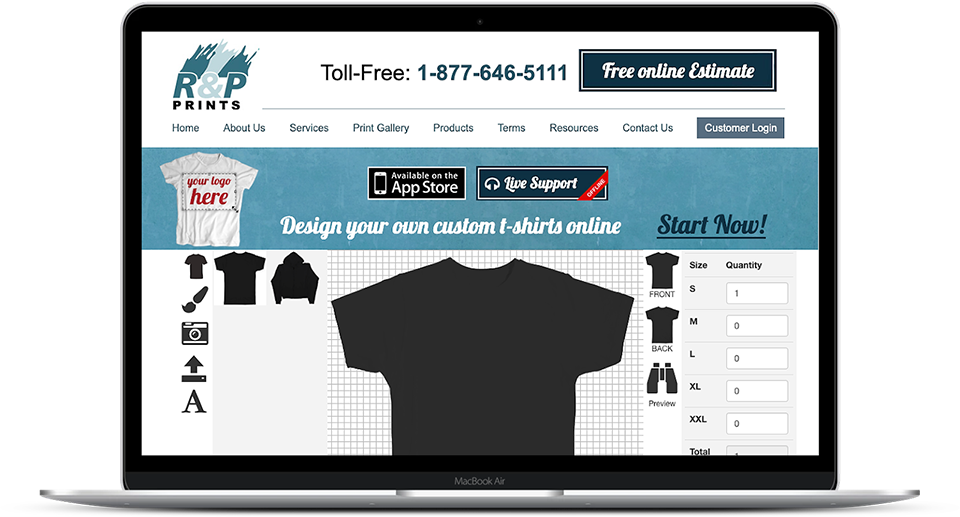 R&P Prints offers a wide range of clothing in various styles and sizes for men, women, and children — all of which can be screen printed with custom designs. There's little we can't undertake. We work with corporations, athletic teams, charities, organizations, and schools — and we custom print everything from golf shirts, to work shirts, to dress shirts.
Whatever merchandise you need, chances are that we can put a custom print on it. We use screen printing for prints like custom designs or logos to promote companies and brands. Our custom prints are available on a wide variety of items — all you need to do is get designing:
Custom Screen Printing Strategies: Inks & Treatments
Custom screen printing requires varying inks, tools and treatments to achieve different effects.
Inks: Plastisol, Foil, Water Based & Specialty
Plastisol: Plastisol is the most commonly used ink for screen printing. The plastic, oil-based ink achieves vibrant colours that are long-lasting and resistant to fading from repeated washes. This ink is effective for dark fabrics because it is able to apply opaque graphics. It is dried using an industrial textile dryer and typically has a rubbery feel to it. That said, there is a technology that can be used to give the print a softer feel if needed.
Foil: These ink overlays are created by applying heated die to a foil that is then applied to a substrate.
Water-Based Ink: Inks that are water-based are incredibly soft when printed on a garment and dry fast. The ink pigment is achieved by using a water-based formula that is not only effective and aesthetically pleasing, but is environmentally friendly too.
Specialty Inks: These are inks that have special finishes like glitter, metallics or glow in the dark finishes.
Treatments:
Dye Discharge: Dye discharge is a technique that uses both bleaching and pigment to achieve the desired design. Instead of applying a pigmented ink, this technique instead removes dye from a garment. The best part about this strategy is that, because no ink is used, the design doesn't have any texture.
Stimulated Process: This strategy is used to achieve photorealistic effects. This is done by using the halftones of inks to replicate a photo's distinct colours.
Distressing: To achieve a distressed look on a garment, layers of vintage wash effects are applied alongside lighter opaque inks to achieve a faded aesthetic.
About R& P Prints:
R&P Prints is one of Canada's fastest-growing custom screen printers today. Year after year, coast to coast, our name is synonymous with quality products, quality production, and quality customer service.
We provide a hands-on approach to ensure customer satisfaction. Our associates personally engage with each client. They are involved in every step of a project to make sure that problems are resolved, deadlines are met, and budgets are addressed.
We offer free sales consultations to new customers, live-chats (online) with our project reps, fast turn-around times, extended business hours, and the best prices in Canada. At R&P Prints, we pride ourselves on being a one-stop screen-printer committed to servicing our customers. Design your custom print today!
Frequently Asked Questions: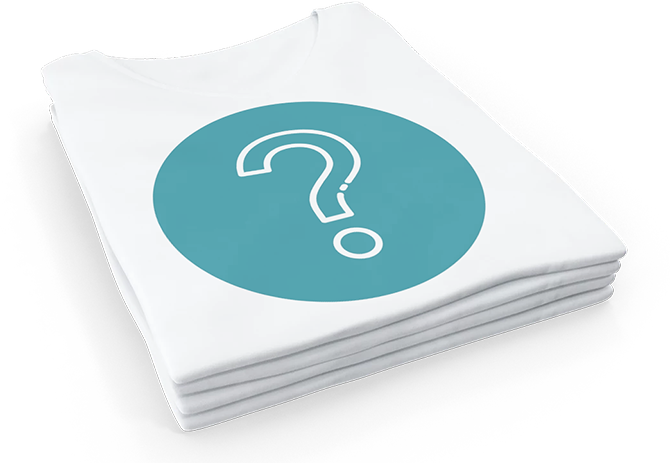 What is screen printing?
Screen printing is a printing technique that involves pushing ink through a stencil (or "screen") to apply a design to a substrate.
How Does Screen Printing Work?
The way screen printing works is that a screen is used to apply ink on an item of choice. A different screen is used to apply each individual colour. This results in vibrant, brightly-coloured designs.
What is custom screen printing
Custom screen printing is a service we provide. We bring custom designs to life with our screen printing technology.
Is screen printing the same as digital printing?
While screen printing uses a screen (a stencil of sorts) and uses it to apply ink to a garment, digital printing involves computer-processed artwork.
How much is custom screen printing?
The cost of your order will be determined by the type of garment you choose, how many you need to be printed, the number of required colours and your deadline. We also provide free online estimates for orders.