Custom Shirts Printing Toronto
R&P Prints has been part of Canada's screen-printing business for many years. From coast to coast, our name is well regarded, and our reputation is synonymous with trust. When you're shopping for Custom Shirts Printing, look no further! In Toronto, and throughout the GTA, we supply a wide range of branded clothing and promotional products for your sales promotion, your special event, or your advertising campaign.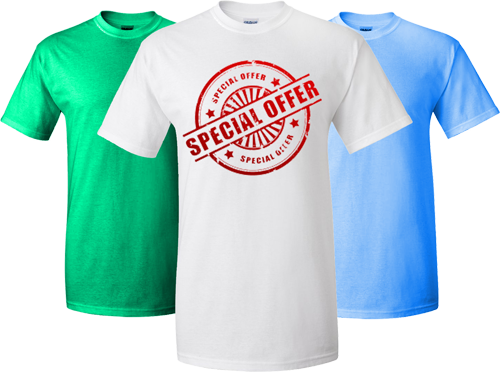 We service companies of all sizes, with customized printing and embroidery, and with an exceptional level of customer service that has become our priority. We do it all – and we do it based on our customers' specific needs and clear objectives: we help them to boost sales; increase brand awareness; promote special events; and enhance product recognition. And whether it's Custom Shirts Printing, sweatshirts, or company uniforms, we satisfy every client with the high degree of quality that they expect.

R&P Prints stocks clothing products for men, women, and children, as well as a broad range of accessories, all of which can effectively display your personal branding. We consistently work with companies, athletic teams, public organizations, and schools, and offer our Custom Shirts Printing for golf shirts, work shirts, and even dress shirts.
At R&P Prints, we handle every project with the same care and attention to detail, regardless of scope. We make use of state-of-the-art equipment - both manual and automatic – and the latest printing technology. We're proud of the quality we build into every job, and are able to guarantee great results every time. And we're equally proud of our skilled staff - a dedicated team of professionals who are experienced and knowledgeable in the field. They understand the screen-printing industry, and appreciate the customized nature of each and every job. When it comes to Custom Shirts Printing, our production people deliver the results that keep our clients satisfied.
As one of Canada's fastest growing printing companies, R&P Prints wants to be your full-service printing provider. Our unique and disciplined customer service approach allows for an efficient production flow, and our hands-on "per client" style serves to enhance the process. For Custom Shirts Printing in Toronto and throughout the GTA, we stock some of the best names in textiles – brands like Gildan, Hanes, and others. We are always looking for the newest products, new production methods, and improved printing techniques. We want to promise great results – and we do!
Our aim at R&P Prints is to provide an excellent level of customer service. On Custom Shirts Printing, for instance, our associates engage with each client, handling every step in an effort to fully satisfy client requirements. We do our best to ensure that deadlines are met, and budgets are respected. And all new customers receive a free sales consultation, where project concepts and ideas are discussed - we'll even meet you at a location of your choice!
But there's much more: extended business hours; live-chat options with project representatives; fast turn-around times; and, of course, the best prices in Canada! From Custom Shirts Printing to team jerseys and school uniforms, we can truly become your one-stop screen-printing and embroidery provider.