Polo Shirt Embroidery: Customized Polo Shirts Toronto, Canada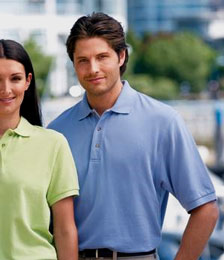 Embroidered Polos or Golf Shirts: There is nothing like a nice, custom polo or golf shirt with your company, organization or team's logo embroidered on the front to show pride and sense of belonging. Prints Canada offers polo shirt embroidery in Toronto and the surrounding areas for you.
Customized polo shirts from our custom embroidery & screen printing company can go a long way in setting your group apart by showing your logo to all as a walking advertisement. Instead of promoting an apparel brand's logo on the front - you can custom embroider your group's logo on it.And, just in case you're wondering, polo shirts became so popular on golf courses, that people started calling them golf shirts.
With a large variety of top golf or polo shirt brands like Nike, Gildan, American Apparel and more, we are sure you will find something within our extensive database of wholesale golf & polo shirt companies. We carry high quality and high performance fabrics and a variety of textures with ultra high quality embroidery of your choice of logo, company or group name and/or tag lines.(Note: there are some types of polo shirts that we can't embroider because of how thin they are, so you can choose screen printing or other methods of customizing them.)
All you have to do is click here to view our catalogue of polo shirts and search by brand name to find the type and style you wish to personalize.
Please feel free to contact our customer service representatives for more information about our polo shirt embroidery & printing in Canada!