Screen Printing in Montreal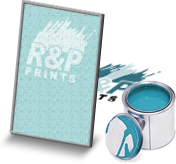 Are you looking for a company that provides excellent quality screen printing on designer clothing items? If so you have come to the right place! R&P Prints is your premier source for screen printing in Montreal. Do not compromise designer brand clothing just for the ease and simplicity of screen printing and instead let our trusted professionals show you why we continually offer the best screen printing in Montreal. Choose from our promotional printing brands like Hanes, Nike, Gilidan and more.

Let your imagination go wild as you select from a variety of pre-set images and logos to customize your clothing. Alternatively, upload an image of your choice and our printing professionals will ensure that it is printed to perfection. Are you in need of promotional clothing or customizing an entire workforces uniforms? If so, R&P Prints offers the most affordable wholesale screen printing in Montreal and it is no wonder why companies, teams and event coordinators consistently choose R&P Prints in bulk screen printing shirts.

You can rest assured our trained and professional staff will customize your order in anyway needed. At R&P Prints we use only the highest quality equipment and fabric and you will never have to choose between quality service and brand name designer clothing again! Take advantage of the best wholesale screen printing in Montreal for maximum value . Our brand selection includes such brands as: Dickies, Fruit of the Loom and Hanes. There is a reason why R&P Prints is the number one choice for screen printing in Montreal and as our customer you will be heavily valued. Your every concern will be addressed as we work to provide you the most stellar service possible.

Let your wallet take a break and take advantage of our amazing discounts by bulk screen printing shirts. If you have a big event coming up let us do the work for you and deliver not only a product that will impress you with its quality but also make your wallet feel a little bit heavier. Consider bulk screen printing shirts and see for yourself why R&P Prints is the only name when it comes to wholesale screen printing in Montreal.

Whatever your need is allow us to guide you every step of the way from design to printing. Try our easy to use designing tool on our website to get an idea what your clothing will look like. R&P Prints has strived to deliver an excellent product every single time whether you need wholesale screen printing in Montreal or you are just looking for some individual screen printing in Montreal. From our quality service to our quality designer material, is it any wonder why so many customers continually return? You will be so delighted by your order we bet you'll be returning to try out bulk screen printing shirts!

Call R&P Prints today or visit our website www.printscanada.com for a free quote. Get started today and see why our customers say we provide the very best wholesale screen printing in Montreal and see firsthand the dedication and excellence embodied in our product. See why bulk screen printing shirts is considered not only great value but also great quality!

Prints Canada offers…
T-Shirts for promotions or events in Montreal
T-shirt screen printing in Montreal
Promotional T-Shirts in Montreal
Custom T shirt printing in Montreal
Team T-Shirts & Jerseys in Montreal
Please have a look at our wide assortment of T shirts for promotional printing.