Branded Product Ideas for your Valentine's Day Marketing
Posted on 10 February 2022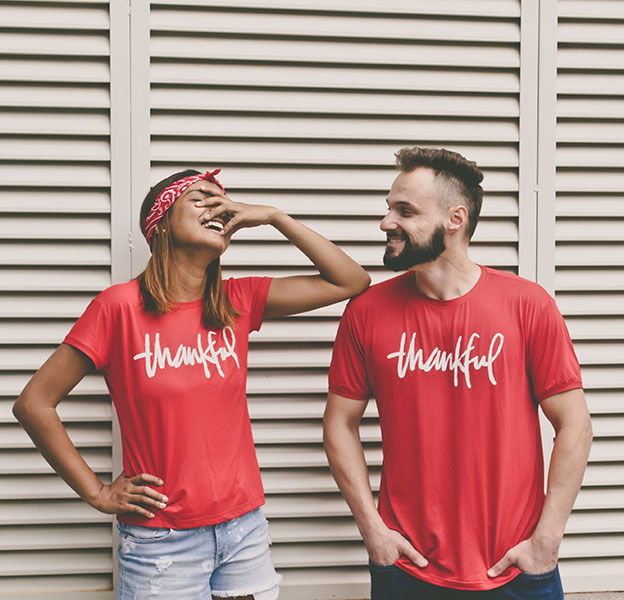 Christmas and New Year are over, and the next most exciting occasion for most people is Valentine's day. Although some would say that businesses have commercialized hearts' day, it won't hurt if you have items people can buy for this day.
You need to grab this opportunity to raise your revenue as a business. Valentine's day is a massive event for lovers as it is for eCommerce. According to the National Retail Federation, people are most likely to spend around $21.8 billion to celebrate this event this year. The season's big spenders often go online to make their Valentine's day purchases.
This 2022, the hottest products are still the traditional Valentine's gifts – fashion items, gift cards, skincare, jewelry, flowers, candies, food recipes, takeaway food, fitness products, sporting gear, and alcoholic beverages.
While traditional items are technically "safe" for you to buy, they can also be boring. Why not spice up this year's celebration with bespoke items? Encourage your customers to give their loved ones something pleasant from your brand that they won't expect to receive on this special day.
Valentine's Day Sales Branded Product Ideas
If you want to carry out a successful Valentine's day marketing campaign, you need to understand the demands of your target market. Only then can you expect strong customer engagement. This year, try to think outside of the usual 'chocolate box' to boost your sales.
A lot of people these days prefer custom-made gifts. This is why print-on-demand is also a thriving enterprise. If you can come up with eye-catching and engaging designs that people can choose from, you can start selling customized Valentine's Day gifts. Your clientele can have custom t-shirts, hoodies, couple shirts, and other heartwarming products made using the designs you have for this season.
If you really want to amp-up your sales this Valentine's day, here are a few more marketing ideas that can help create a Happy Hearts' Day buzz for your Ecommerce store.
Matching Couple T-Shirts
One of the most marketable products for Valentine's day is the matching couple shirt. It doesn't have to be Valentine's day for couples to give such a shirt like this, but it's exceptionally special to flaunt one's love for another on hearts' day.
Provide couples with an excellent opportunity to show each other their love and devotion through a selection of custom couple t-shirts. Aside from helping these lovers express their feelings, you can also increase your business' bottom line.
Couples can always buy designer and branded t-shirts, but customized ones are better. Why choose generic shirts that everyone else can buy when you can go for a special pair that you can customize yourself? Couples can even print their initials or sweet messages for each other on their shirts.
If you want to have these shirts made for your Valentine's Day celebrations or promos, R&P Prints can supply you with high-quality customized shirts. Their t-shirt screen printing service can help you deliver what your clients want when it comes to bespoke couple shirts.
With the company's emphasis on quality, they will surely give your brand the high-quality reputation you want, whether it's for retail or bulk t-shirt printing orders. By continuously surprising your target market with these cute and quirky products, you can convert site visitors into paying customers in no time.
Personalized Hoodies and Sweatshirts for Valentine's Day
Aside from customized couple shirts, another exciting Valentine's day product your sales team can explore is the personalized hoodie. These are perfect for sporty couples or even close friends who want to keep up that sporty vibe even during V-day. If you think a hoodie isn't your style, a sweatshirt may just be the thing for you.
Giving someone a hoodie or a sweatshirt that's customized to fit the occasion sends a message that you're there to keep them warm, even when you're not around. Between friends, this could mean that you always have their back no matter what.
As with shirts, branded hoodies and sweatshirts with generic designs are acceptable as gifts for Valentine's. But why go for such common items when personalized ones are so easy to have made and are more special?
Screen Printed Jackets
To ensure that you capture a wide market, you should offer variety to your site visitors. This means that aside from custom couple shirts, sweatshirts, and hoodies, screen-printed jackets should also be on your list of customizable merchandise.
Screen-printed jackets can be gifted to lovers, friends, family members, or anyone you want to feel special on Valentine's day. R&P Prints can also help you with this product. They can supply you with premium-quality jackets that can be customized according to your customers' needs.
You can offer different designs, colours, and printing options to your customers. Once your orders come in, you can then forward them to R&P Prints. They will make and deliver the said orders to your customers once they're done. You can partner with them and help drive each other's revenues up.
Custom-Made Caps and Hats
Custom-made hats and unisex caps are also great to have on your list of Valentine's Day offers. Aside from being a great item for couples, it's also a great idea for groups of friends who want to have fun on heart's day. Quirky designs, initials, and unique colour combinations can help make these products stand out when worn.
Add more pizzazz to your product selection by giving your customers options for add-ons. Some additions you can have for custom caps and hats include heart and flower decals, horns, hearts on springs, and more. These can make the caps and hats you sell funny and quirky, adding a light fun touch to the item.
Turn it Into a Contest
Aside from offering these customizable items to your customers, why not turn the customization option into a contest. Offer your site visitors a prize for creating the most imaginative custom item for Valentine's Day.
A few examples you can try for this contest include:
Have them submit their own jacket design without using your list of available designs
Encourage them to share your Valentine posts on different social media platforms
Have them take pictures of the finished item and to post it on your social media pages
The winners for the best design, funniest design, and most lovable design can then get gift cards for free customized items from your store and runners-up can get discount coupons. This contest for V-day can boost your sales and give your products more exposure.
This idea can be used on other holidays as well. Choose any holiday that you feel people will love creating custom items for and use these in campaigns to boost your sales. Increasing engagement with your target market can also help solidify your brand.
Business owners can benefit from such a novel trend by giving their customers what they want without actually doing the printing themselves. This can be done with the help of third-party suppliers, with you the business owner as the conduit between the product and the buyer.
R&P Prints provides you with high-quality products that you can resell to your customers. Both businesses profit and the customers are happy with their purchases. It's a win-win scenario for all.
Pro Tip
Keep your customers coming to your store by sending them custom products so they'll know that you appreciate them.
Get Your Custom Products for Your Valentine's Day Promotion at R&P Prints
If you want to help people who are still searching for the perfect gift this Valentine's day, consider R&P Prints. Their t-shirt printing online service is one of the best in the industry. Aside from offering high-quality fabrics for the manufacture of shirts, hoodies, sweatshirts, jackets, and hats, they also have a wide array of design options. These are perfect for your brand's yearly Valentine's Day marketing strategies.
By doing this, you're not only improving your business, but you're also making lives more meaningful and exciting for your customers. They won't have to look far when they search for the perfect gift because you have what they need in your store. This could also be a part of your regular holiday marketing strategies.
Increase your sales on Valentine's Day by giving away custom products from R&P prints. Visit our website today to learn more.
FAQs on Branded Product Ideas for your Valentine's Day Marketing
Are giveaways good for businesses?
Yes, giveaways are perfect for your business. According to Snacknation, 80% of the target market express their interest to do business with companies that offer personalized gifts.
How do I do a small business giveaway?
Here are 10 amazing business giveaway ideas for small businesses as per Rafflepress' research:
Give promotional giveaways before a product launch
Do scavenger hunts within your business location
Spin the wheel for contacts in your email
Do a guess the object game for VIP clients
Do online quiz contests
Have an Instagram hashtag contest
Launch a make a slogan contest
Start a name that product contest
Create a regular contest using automatic entries
Customize a product
How can giveaways help your business?
Here are specific ways that giveaways can help your business:
It encourages your customers to buy your products
If customers recall your brand, they'll trust you and your products
You can make your brand known through promotional products
Customers happy to receive your promotional products love to talk about these on social media, which means free advertising
You can reach new customers through your promotional items
It can also help you build a strong network with other businesses
It allows you to sell more while also promoting your seasonal products
It helps you learn more about the preferences of your customer demographic