Custom T Shirts for Your Summer Event in Montreal
Posted on 09 July 2019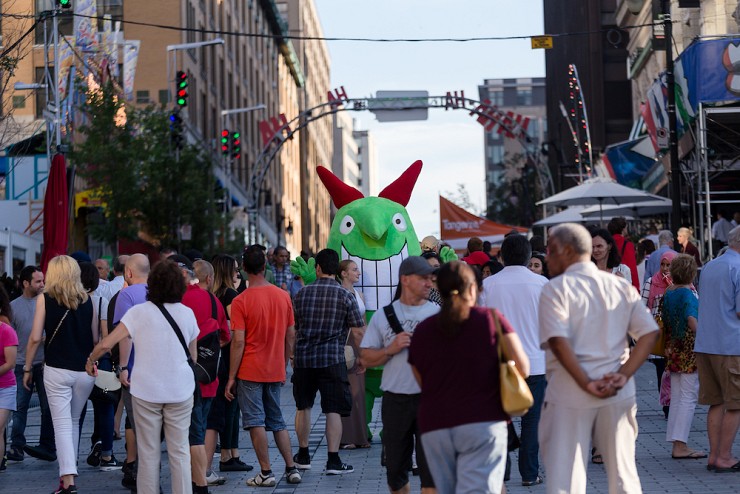 Montreal, Canada, is a lively city with a number of events going on all summer long. There's a lot to explore and do, like attending Les Premiers Vendredis, which is the largest food truck event in Canada on every first Friday of the month until October. There's also Piknic Électronik, an electronic-music event that runs every Sunday until September, as well as Montreal ToyCon on July 21, and the famous Just for Laughs Festival running from July 10 to July 28.
With so many things to do people will be out and about enjoying the city to the fullest, and these events are great opportunities for businesses and artists to get their name out there. One of the most effective and affordable ways to build your brand is to hand out or sell promotional material like graphic t shirts and other apparel.
Great Opportunity for Musicians
For a musician, selling merchandise isn't only just a means to make money. Investing in your own custom designed graphic t shirts can significantly help get your name out there and known. R&P Prints offers custom screen printing services in Montreal and can help promote your music by providing affordable pricing, no set up fees, and free delivery. We also offer great pricing on bulk orders, meaning that if you have a concert coming up you can order a batch of shirts to sell at the event.
When fans walk around in public with your shirts, hats, bags, etc., then they are advertising for you, especially if it manages to spark conversation with someone who notices. Next thing you know, more and more people will be coming out to see you perform all because of a shirt that you sold to a fan.
But there's something even better about selling your own unique merchandise to fans: it's also a great way to physically connect to them and help them feel like they are part of a community. This is necessary in a world where music isn't something that is physically obtainable anymore. While in the past fans could have their very own CD collection, nowadays everything is downloaded online, removing that important factor. Instead, fans now feel connected to their favourite musicians by purchasing their merch.
Generate More Brand Recognition
Are you the owner of a small business in Montreal and are looking for ways to strengthen your brand? Like a musician or artist trying to get their name out there, t shirts also make great marketing tools for businesses that are looking for a cost effective solution to promoting their brand.
There are stories of small businesses making a significant amount of revenue just by giving away free branded t shirts. Take the story of Sujan Patal who just wanted a shirt that he could wear to work at his small business Single Grain. People became interested in his shirt and he began to give them away for free, eventually earning his company 500k in revenue because the shirts drew customers in. They made great conversation starters and helped him build trust with his customers.
The events around Montreal this summer are great opportunities for small business owners to set up booths and give away free swag, just like Patal did. Giving away free things are a great way to draw potential customers to your business, especially if you are offering them a free branded t shirt as well.
One more pointer is to have your employees also wear the branded clothing, that way the shirts can be better seen and noticed, getting people to come over to your both and inquire about the free giveaway – and your company.
Quality Screen Printing in Montreal
R&P Prints provides people around Canada with t shirt screen printing services that are made with top-of-the-line manual and automatic equipment. We are committed to creating high-quality vivid prints that are long-lasting and printed on popular brands that are durable and stylish. Check out our online catalogue to get a sense of the vast amount of brands, styles, and colours that we offer. You'll be sure to find whatever you are looking for and more.
Not sure where to start? We have on-site graphic designers who can help you come up with a design that represents you and your brand (whether you're an artist or small business owner). Click here to find out more about how to promote yourself or your brand, and also be sure to follow the following tips before you seek to finalize a design:
Decide what the apparel will be used for – your sales team, promoting an event, free giveaways, promotions, brand awareness, fan merch, etc.?
Seek inspiration online and elsewhere and get a sense of what you're drawn to; also consider looking at other businesses/artists to get an idea of what's trending.
Decide how many you think you'll need and in what sizes.
Determine your budget and timelines for when you need the product to be ready by.
If you've gone through the above considerations then you'll be more prepared to begin printing your custom t shirts and apparel. Of course our representatives would be happy to help you along the way and offer you any advice that you may need or answer any questions.
Customer-Focused Services
Our business model is built off of creating a great customer experience for our clients. Every interaction with our customers is unique, and we aim to service each one with their specific needs in mind. Providing our clients with a better customer experience means that we offer extended business hours, live chat through our website, on-site consultation, fast turnaround times, and the best prices in Canada.
So if you're planning on taking advantage of the lively scene this summer in Montreal, then be sure to contact us so that we can get you started with creating custom branded t shirts that will get your name out there.