Get Ready for Golf Season With Custom Apparel
Posted on 12 April 2023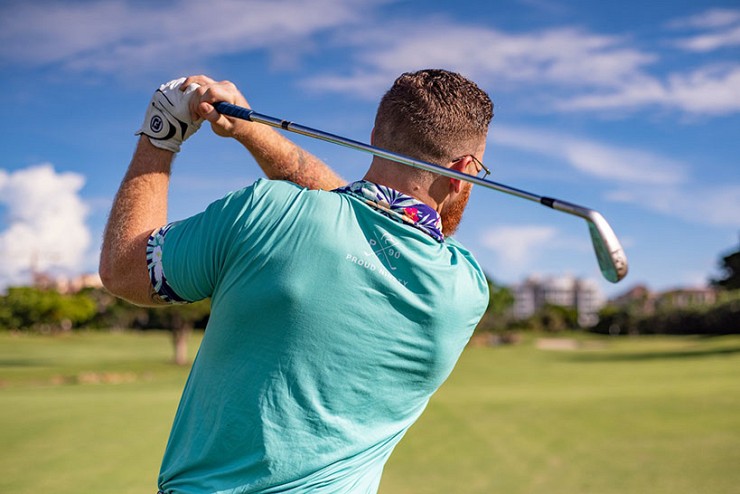 Whether you get deals done on the fairway or your staff wears (or should be wearing) branded golf shirts while on the clock, now's the time to get in your orders for custom golf apparel and accessories!
Not only do they make smart-looking uniforms that give your business a professional look, but the right golf shirts can also improve performance by providing comfort to your hard-working team. Help your valued customers, staff, or sports club get their work done or hit the links in style and comfort with custom-designed clothing and accessories from a trusted screen printing and embroidery service.
At R&P Prints Canada custom screen printing company and clothing supplier, we understand that the right apparel can make all the difference for your brand's perception on and off the golf course. That's why we offer a wide selection of high-quality custom apparel to suit your branding and performance needs. From stylish polo shirts and jackets to functional hats and bags, our products are designed to enhance the golfing experience and help you stand out. So, elevate your game and make a statement with our premium-quality custom apparel.
The Benefits of Custom Golf Apparel & Accessories for Businesses and Golfers
Customized golf gear is more than simply a way to look nice on the golf course for its wearers; it also has several advantages for businesses, social media influencers, teams and individual golfers. Custom golf apparel and accessories are a fantastic way for companies to enhance their brand's exposure and build employee and consumer loyalty by selling or giving away branded polos, caps and jackets that can be worn out on the fairway, running errands or while on the job.
Our custom apparel lets you look and feel your best on the course while promoting team spirit and brand awareness.
Designing Custom Golf Apparel & Accessories
Along with simple logo designs for uniforms and promotional swag, custom golf apparel can showcase anything from your artwork to catchphrases + images to event promotion. Creating a screen print for custom golf apparel and other clothing doesn't necessarily require graphic design skills, but it is something of an art form.
If you are creating a design from scratch, you can either use a vector-based program like Illustrator, Adobe, CorelDraw and others, or you can access our online tool by clicking on a "Start Your Design" or "Free Estimate" button on any page of our site.
Here are some tips for creating a custom design for screen printing:
Choose your design colours wisely. Utilizing several colours or flashy colours that are currently trendy may not be a good idea as they can make a shirt stand out for the wrong reasons over time.
The greater the contrast between the colours in your design and the colour of the golf shirt, the more noticeable your design will be.
If you're designing a shirt or accessory for the golf course as opposed to a work uniform, look at fashionable golf shirts for inspiration and incorporate golf lifestyle and culture into your design.
Consider the arrangement and spacing of your design. You don't want your design pieces, e.g., text and images, to be too close together or too far apart.
When planning the layout of your design on the golf shirt or accessory, the best placement is roughly four inches from the collar, rather than in the centre of the front of the golf shirt.
If you're designing custom golf shirts as work uniforms, you will likely prefer to take advantage of our custom embroidery service for a professional and tasteful embroidered company logo.
We can also assist you with incorporating logos and branding into your designs, ensuring that your golf apparel or uniforms match the values and identity of your company. We have graphic designers in-house and CSR available for live chat during extended business hours.
With our state-of-the-art technology and expertise, we can make your vision a reality and create custom apparel that will make you and your team stand out on the job site or the golf course.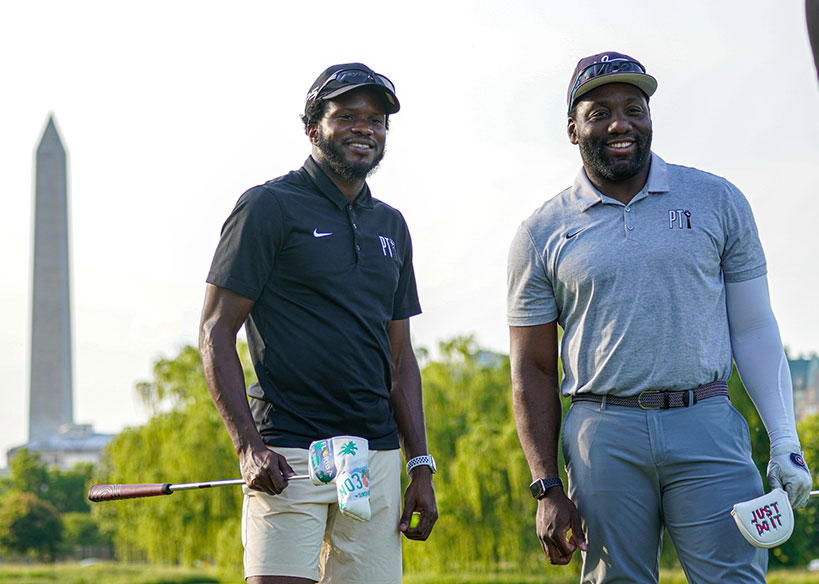 How to Choose the Right Custom Apparel for Golf Season
Material, fit, and style are crucial considerations when looking for the appropriate golf apparel for ladies, men or youth to custom-print or embroider. All these components must complement your design. Regardless of your reason for ordering custom apparel and uniforms or what type of organization or business owner you are, every decision you make should suit your logo, artwork or message. That means that your first thought should be about your brand identity.
If you're ordering custom uniforms or staff t-shirts for an event, you need to get sizes before placing an order. However, if you're ordering branded golf shirts, apparel or accessories to give away as swag, you'll need a good number of each size with a focus on large and medium sizes, depending on the style and cut of the shirt.
Ordering Custom-Designed Golf Apparel in Bulk
Buying custom-branded golf apparel in bulk quantities may be wise for businesses, teams, and golfers who want to save money while having a big supply of branded apparel on hand. We provide bulk-order alternatives for screen printing and embroidery that may be adapted to your individual needs and preferences.
If you need to buy polo shirts in bulk, our team of experts can guide you through the process of selecting the right quantities and sizes for your bulk order, ensuring that you receive the perfect fit for your entire team or group. With our bulk order options, you can outfit your entire team or group in style while staying within your budget.