Give Your Sports Team The Winning Edge With Custom Activewear
Posted on 25 January 2018
With winter in full swing, both corporate and recreational teams are suiting up, playing hockey, basketball, and a number of other indoor sports. And with spring around the corner (it's a long corner, but it's still on its way!), teams are also starting to prepare for outdoor sports, like softball and soccer. While you can assemble the best players you can find, and practice often, the lifeblood of a good team is still in the uniform. Take the first Mighty Ducks movie for example: they were a ragtag group of youths until their coach (played impeccably by Emilio Estevez) stuck that iconic green jersey on them, and then they all started to play as a team.
Here at R&P Prints we like to think of ourselves as that Emilio Estevez figure: bringing teams together through the power of beautifully crafted sports clothing. We offer all sorts of different products, suited to an array of different sports. Take, for instance, the Baseball Tee or Youth Baseball Tee we offer, which comes in a variety of sleeve colours – royal blue, red, black and navy – to suit your team logo and design. Or take the Caliber 2.0 Polo, whose moisture-wicking and breathable fabric would be perfectly suited for a group golfing shirt.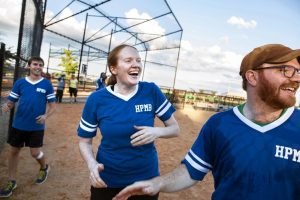 Regardless of what sport you play, we've got activewear products to suit your team. We're deep into basketball season now, and if you're part of a recreational basketball league, or have aspirations to start one, come talk to us. The Pro Mesh Reversible Tank Top we offer, for example, makes for the perfect basketball jersey, and our on site graphic designers will work to meet your vision. Our associates are also on hand to make sure that you stay on budget, getting the best quality uniform for the best price possible.
And uniforms really can give a team the winning edge. Whether you're a professional team looking to best a long-time rival or a recreational team looking to dominate your Friday night league, you need to have an identity in order to play well together. That's the first thing a uniform helps with. It creates a team identity, which translates to better engagement and teamwork. The other advantage of getting sport-specific team uniforms, especially those of good quality clothes, is that they're specifically designed for that sport. Instead of showing up to a basketball game in a stiff t-shirt, and drenching it in sweat, show up in a mesh tank top, which stays breathable while allowing your shoulders a full, unencumbered range of motion to make your shots.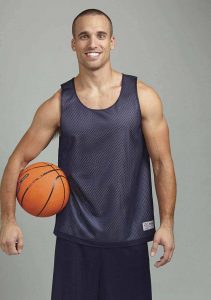 There are even some theories out there that go so far as to assert that the colour of your team uniform can give you a winning edge. Take for instance this Scientific American article, which links Scarlet-coloured uniforms with sports success, citing evolutionary psychology as the driving factor – apparently "red" is a natural signifier of dominance! Whether you buy that or not, you have to admit that uniforms help a sports team, both by unifying them and by providing them the proper attire to play the game.
If you want to spark some ideas, check out our exhaustive list of attire on offer, or peruse through our gallery of finished products to see the fine work we've done for other teams, like the hockey jerseys we've printed. Whatever your sport of choice may be, we'll find a way to make sure you play in style.