Order Your Superhero Shirts in Toronto
Posted on 30 September 2017
Halloween is coming up and costume shopping can be a burden and expensive. Instead use your creativity and your child's creativity and order your own custom-designed superhero t-shirts to make a Halloween outfit for them. When it comes to superhero shirts in Toronto, it's more affordable than buying from the big box stores. From Spider Man to Batman, from the Hulk to Wonder Woman, and from Thor to Wolverine, screen-print your own Halloween costume.
Halloween with a superhero shirt of your favourite hero
Go neighbourhood trick-or-treating for candy with the claws of Wolverine on your chest or the scaly pattern of Aqua Man, the ruler of Atlantis, on your arm sleeve. We can screen-print your favourite superhero's outfit on a shirt, jacket or even on a pair of pants so you can show up to your Halloween party in a full suit.
Nothing makes Halloween more fun that hanging out with a group of friends. Round up your pals as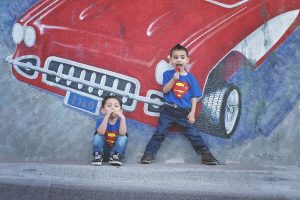 the foursome from Teenage Mutant Ninja Turtles. Whether your favourite character is Leonardo, Michelangelo, Donatello, or Raphael, screen-printing your superhero shirts in Toronto is a great option for groups. We'll make sure you're ready for surfing the sewers in a turtle-shell T-shirt.
We have plenty of neat ideas in store for super heroines too! Save the day as Super Girl, Wonder Woman, Spider Girl or Bat Girl. Maybe you want to go out for Halloween as a wicked villain like Poison Ivy. You can create whatever apparel you like and let your imagination run wild. Work with our graphic designers or submit your own superhero artwork.
Quality Designs, Prints & Custom Halloween Apparel
We use state-of-the-art equipment for custom screen-printing your superhero shirts in Toronto and we also use high quality inks to produce the best quality designs possible.
Our highly experienced production and graphics team can handle just about any request for superhero shirts in Toronto. From the simplest order to the more intricate, multi colour designs, we can do it all!
The higher the quantity, the better the pricing so if you have a big family or big group of friends, you can buy in bulk and save. For superhero shirts in Toronto we also offer free estimates, free delivery, no setup fees and a huge selection of brand name apparel to choose from. We also offer the most competitive pricing.
Halloween is one of the best times of the year to show off your creative spirit. If you love comics, movies, fantasy, characters and all the fanfare and festiveness surrounding this awesome time of year, consider custom screen-printing your superhero shirts in Toronto. We can bring your Halloween superhero outfits to life.
How to order from R&P Prints?
Halloween is just around the corner so don't delay! Before you know it, October 31st will be here! Order soon so we can make your superhero apparel a priority. Where possible, we offer extended business hours, experienced customer service representatives, a live support function, and FREE online estimates for your orders.
At R&P Prints, we guarantee exceptional results on every order. We'll make sure your superhero outfit is the envy of all the other trick-or-treater's and Halloween partygoers. Our experienced sales associates will work with you from beginning to end to ensure you're fully satisfied and ready to be the best superhero Toronto has ever seen. Up, up and away!