How to Set Up an Awesome Merch Table
Posted on 14 December 2018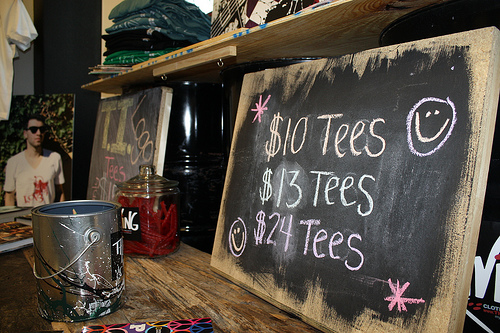 You can be a huge headliner playing regularly at concert halls or you can be a group that mostly plays coffee shops. Either way, you have a band and you want merchandise to promote yourself. Between booking gigs, rehearsing, promoting shows, and getting to the venue, having an awesome merch table at your shows might seem like an afterthought.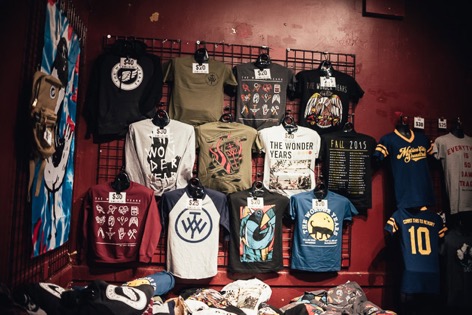 Even if you're not incredibly gung-ho about selling custom apparel like t-shirts, custom sweatshirts, or tote bags after the show, you recognize the importance of branding and promotion so you know that merch is an important component of your live shows. You have plenty to worry about when it comes to performing. You're thinking about attendance, the setlist, you want to get along with the technicians and venue owner… worrying about merch shouldn't be an added stress.
Clear Signage
You have to have big, clear signage to broadcast what you're selling and the prices. For someone taking a glance at the merchandise you're selling, there's no fun in guesswork. If you're selling custom t-shirts in Toronto with a band logo that you put lots of work into, then make sure people know the price and sizes available.
Have Someone Work the Table
If you're looking for custom t-shirts in Montreal and elsewhere will have plenty of options for you to choose from. So it's important to find a reliable provider that will give you what you need and on schedule for show day. After all, what's the use of ordering custom shirts to promote your band if they're going to arrive after the show? Once you've got your shirts to the show, you need to have someone at the table at all times. With a friendly face working the table and building connections with your audience, you build a good atmosphere at your shows. The person working the table can even help you build an e-mail list to stay in touch with your fans by getting visitors to leave their addresses.
Pick a Good Spot
Depending on where you're playing your show you might not have plenty of choices when it comes to where you can set up your table of goods. Still, it's important to pick a spot to set up where everyone in the venue can see it. You might have to negotiate with the venue if what's convenient isn't exactly what's most visible, but at the end of the day, you need eyes on your products.
Have Cash on Hand
This may seem counterintuitive, after all, the point of the merch table is to make money. Still, you have to go into the arrangement ready with a change in bills and coins to get shopping ready. You don't want to be in the position of having a great conversation with a buyer than having to run to the bar or even to the bank to have the right change for their purchase.
Enjoy!
Sure, there are plenty of tips and tricks to branding and promoting your band and you want to make the most of every opportunity you have to get the word out there. If you follow the merch table basics outlined here, then you won't have to stress too much while working your event and you can enjoy yourself. Remember, it's important to build connections with your audience and make every sale count. Have fun!