Show Your TO Love this Summer With Custom T Shirts!
Posted on 23 July 2019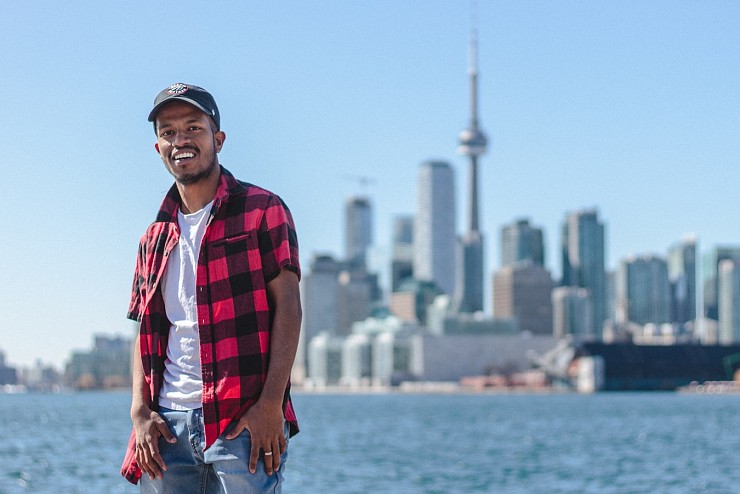 This year on June 13, Toronto exploded into celebration as the Toronto Raptors made NBA history by being the first Canadian team to win the championship. The road was hard and long-fought, but finally in Game 6 at the Oracle Arena in Oakland, California, the Raptors ended the neck-and-neck matchup 114-100. Celebrations continued on into the weekend and Monday as well, when the city held it's very own Parade celebrating the Raptors. Fans poured out from far and wide, and it was hard to find someone who wasn't dressed for the occasion.
Even non-natives of the Toronto area were sporting Toronto Raptor jerseys, t shirts, baseball caps, and more. There was truly a sense of unity among everyone, including congratulations and well-wishes from the losing team, the Warriors, and their fans.
With Canada Day marking the beginning of July, it's never been a better time to be Canadian. People across the country are experiencing a high off the Raptors' win, and chants of 'We the North' are continuously being echoed across the nation. Everyone is showing their pride for being Canadian, and it's sure to carry on all summer long.
Don't Let That Feeling End
As we work our way into summer, the great vibes will continue with a number of great events being hosted across the city. Buzz over the Raptors win is sure to stay strong, and a number of people will still be showing off their Toronto pride with Raptors clothing and accessories.
If you want to join in on the fun and show how much you love your city, why not get yourself your own custom t shirt that either shows you're a fan of the Raptors or of Toronto? R&P Prints offers t shirt printing in Toronto that is easy, affordable, and of quality make. Check out our online catalogue where you can search through all the brands we work with (like Gildan, Hanes, American Apparel, Fruit of the Loom, Bella, Alo, and Nike Golf) for the perfect apparel.
You can get your custom clothing in a variety of colours and styles, including:
T shirts
Hoodies
Bags and accessories
Polos
Tank-tops
Shorts and legwear
Headwear (toques and baseball caps)
Outerwear
Youth wear
With R&P Prints you can create any kind of custom clothing for yourself that shows off your love of Toronto. Whether it's a print of the city skyline, Toronto Raptors logo, or text that says 'We the North,' you can get something that will keep you pumped and eager to explore the city all summer long. And don't forget those cold nights either – consider custom hoodies to keep you warm on a night out exploring the city.
Why We Love Toronto
Our company is based out of an 8,000-square-foot facility in Toronto and we've been in the business since 2007. There's no other city that we would rather be in and operate from, even though we service a number of Canada's major cities including Montreal, Vancouver, Ottawa, and Calgary.
Toronto is a vibrant city full of a diverse amount of people, and the place is constantly abuzz with events like food festivals and concerts. The music scene here is rich with a number of talented musicians and bands playing in local venues and during events like the Beaches International Jazz Festival (which runs from July 5 to 28th this year – be sure to check it out).
In fact, you might just run into one of our clients during your adventures in the city – we supply custom t shirts and other apparel for bands, concerts, and small businesses that have booths at events or are doing promotions. With the ability to print up to 13 colours on just about any garment, we are able to offer vibrant prints that add to the character of the city, and help our clients stand out among the crowd.
You Can Stand Out Too
Are you looking for your own unique look, or are you not really fond of the options available for Raptors or Toronto-themed t shirts and other apparel that's currently available? You're not alone. A number of people come to us who are looking for custom t shirts that help them stand out from everyone else. Show everyone that you're a true fan by coming up with your own design. Read our tips for designing your custom t shirts or you can even ask one of on-site graphic designers to help you come up with a cool design that's perfectly unique to you and your style.
If you're not sure what you're looking for, why not try out our free custom t shirt designer software that lets you plan out a t shirt through your web browser? We also have an app that you can download through the App Store and use on iOS devices like your iPad. With this application you'll be able to:
Draw on the front and back
Choose from a variety of popular fonts
Select a number of different colours
Save in JPEG, PNG, GIF, and BMP formats
Create designs from text, images, and simple shapes
After making your design, you can select what size you want it in and the quantity. From there, click 'Request Estimate' and we will get back to you with affordable pricing options. If at any point you have any questions or experience any issues, we also offer Live Support which is available through online chat. Our representatives would be happy to answer any questions that you might have.
Best Prices in Canada
When you choose us for custom t shirt printing in Toronto, you'll get free estimates, free delivery, no set up fees, and the lowest prices in Canada, guaranteed. That's because R&P Prints is committed to providing exceptional customer service that's built on quality work with quick turnaround times. We differentiate ourselves from other companies by continuously seeking ways to improve, innovate, and ultimately provide the best quality silk screen printing services for our clients.
So if you want to celebrate your city in your own, unique way, then give us a call so that we can custom design the perfect apparel for you.