Social Media as Inspiration for Wholesale Custom T-shirts
Posted on 28 August 2017
Things have changed dramatically with the advent of social media – and it's no different with wholesale custom t-shirts. Today, computer technology is more advanced, online shopping has grown exponentially, and customizing T-shirts has become ever so quick, simple, and reasonable.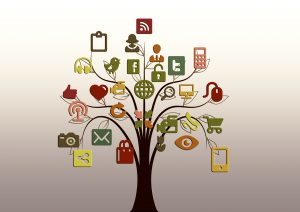 At R&P Prints, wholesale custom t-shirts can be ordered right on-line: from design, to ordering, to shipping. Our system is fully streamlined, our quality is assured, and we have coast-to-coast shipping across Canada. Best of all, we offer competitive prices on the higher volume orders.
For some customers, social media can play an integral role when it comes to wholesale custom t-shirts - design ideas and creative inspiration are simply overflowing. But for everyone with even a little computer savvy, our Designer App can be easily downloaded, and we provide live support.
Facebook
With Facebook, the possibilities are endless – it's a global network of over 2 billion users! Amongst the subscribers are millions of designers, fashionistas, and creatives who share their concepts and ideas worldwide. Facebook is the ideal environment for unearthing T-shirt ideas.
Pinterest
Pinterest is a unique social networking platform that allows subscribers to visually share their ideas by posting images and/or videos on their presentation "boards". This is an innovative way to discover interesting new ideas as a stepping-stone to ordering wholesale custom t-shirts.
Instagram
Instagram is a social networking app specifically designed for sharing photos and/or videos by using a smartphone. It's similar to other platforms in that everyone has an account, a profile, and a "newsfeed". Photos and videos shared through Instagram are displayed on a personal profile.
Snapchat
Snapchat is a mobile app that allows users to capture a variety of video clips and picture images that will self-destruct after only a few seconds. Users who send video clips and/or picture images can decide on the timing for self-destruction. Here again, ideas and concepts are easily traded.
Wholesale custom t-shirts from R&P Prints
For innovative ideas and design inspiration, today's visual social networks are just ideal for sharing, circulating, and broadcasting. And when it comes to creating and producing custom t-shirts, R&P Prints can provide an on-line platform that is easy-to-use and cost effective.
As one of the leaders in custom screen-printing, R&P Prints can produce dozens, hundreds, or thousands of T-shirts. With hi-tech equipment, and online order processing, we can produce as little as a dozen T-shirts in an order. Best of all, the finished results are quality guaranteed.
At R&P Prints, customers are provided with a FREE online estimate prior to ordering. There are no initial setup fees, prices are very competitive, and delivery is FREE. As for customer service, we provide Live Support to answer questions, discuss T-shirts options, and offer expert advice.
From start to finish, the in-house team at R&P Prints provides a full-service approach, with everything under one roof. And it's all a mouse-click away – from online design, to ordering, to production, to shipping. Find out more by contacting R&P Prints at 1-877-646-5111, or visits the company website at www.printscanada.com .