Your Guide to the Many Benefits of Screen Printing
Posted on 14 March 2022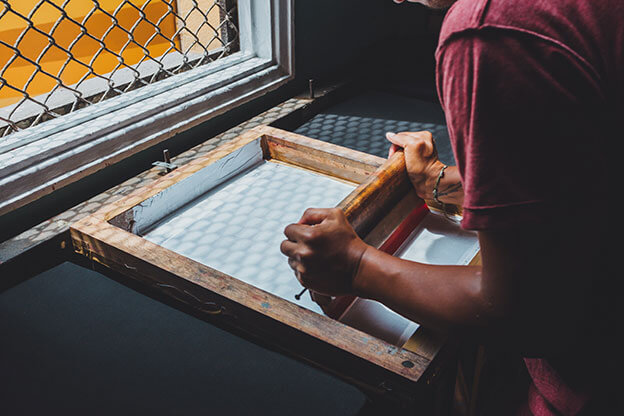 Your Guide to the Many Benefits of Screen Printing
Screen printing or silk screen printing is one of the famous printing methods widely used by various industries today. The concept was first introduced to the West in the 1910s, evolving from stencilling in Asia during the 900 AD to a more industrialized printing method that provides business opportunities for many.
Since the method applies to different materials, like fabric, wood, and glass, many entrepreneurs dive into the printing industry with designs that people can use as a form of self-expression or represent an organization. Such as the case of T-shirt printing, for instance.
If you're planning to join the vast t-shirt printing industry, keep reading to know more about screen printing and why it's the perfect tool for your brand.
Screen Printing Explained
Screen printing is the process of recreating an image, pattern, or text by pressing ink on a surface through a mesh screen. It uses a straightforward method that requires a few tools to create, whether handheld or through a machine.
Wherever you are in the world, whether you're in Toronto or Hong Kong, there is a process you need to follow in screen printing T-shirts and other items. Below are the steps to screen printing shirts in Toronto or other parts of the world:
1. Creating the Stencil
It starts with a design printed on a transparent acetate film. An operator will place the film on an emulsion-coated mesh screen under a bright light, which allows the emulsion to harden and develop.
Once exposed and hardened, an imprint of the design transfers on the screen. And when the screen dries, it will be corrected to ensure that the print is accurate.
When finished, the operator now has the stencil.
2. Printing Press
Next, the screen is placed on the printing press with the item, like a t-shirt, laid flat underneath and lowered down to the printing board. The operator will then add ink to the top end of the screen.
Using a squeegee, the operator will press the ink through the open areas of the stencil, which will imprint the design to the surface of the product.
The process will repeat to finish all orders. And after printing, the emulsion is removed so operators can reuse the mesh screen.
3. Curing
The items will pass through a dryer, which helps create a smoother and more colourful finish. Finally, the operator will wash the finished product to remove any residue once the ink dries.
Types of Silk Screen Printing
Silk screen printing doesn't just apply to t-shirts. And since you can print on different materials, there are also a variety of screen-printing techniques that operators use.
These are the six methods of printing to accommodate all design requirements:
Spot Color Screenings – The most common silk screen printing technique
Halftone Printing – For printing with gradients of single or multiple colours
Grayscale Printing – For printing full-colour images through halftones or one greyscale
Duotone Printing – A combination of two halftones
CMYK Printing – Breaks down a full-colour image into bright colours, such as cyan, magenta, yellow, and black, and combines all colours to recreate the photo's tone and colour accurately
Simulated Printing Process – Combining spot colours with halftone colours to recreate the original image
CMYK is the most expensive and complicated of all these print methods. A person can do CMYK manually, but professionals prefer to do it in an automatic press for a perfect output.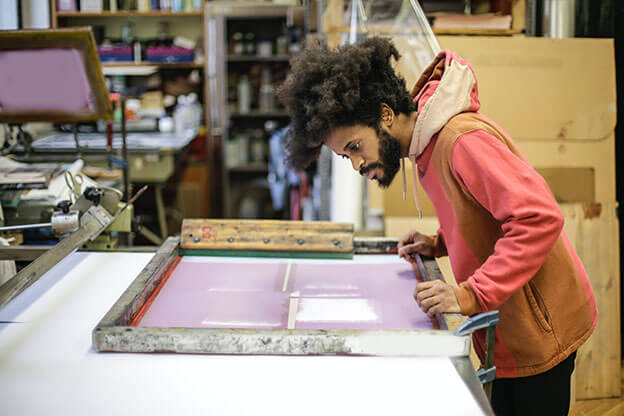 Benefits of Screen Printing
Silk screen printing is an old technique with quite a few modifications over the years. And in today's wild digital world, screen printing is among the many traditional methods that still feel irreplaceable.
Businesses, even startups, trust this printing technique for reasons like cost, quality, and efficiency. And if you're looking for the best method of t-shirt printing but still not sold on this particular method, these are the many advantages of screen printing:
Customizability and Versatility
Screen printing applies to different materials and sizes. For instance, a company can have uniform t-shirts for business or sporting events and have the same design silkscreened on a banner, too.
Because there are many methods and colours available in screen printing, the only limit is the design.
Cost-Effectiveness
One of the best advantages of screen printing is that printing bulk orders are cheaper, so many companies prefer this method more.
Once the operator sets up the stencil, the printing process is easy. And since an operator can use the stencil repeatedly, printing in bulk is not a problem. That's why suppliers can offer cheap packages for printing in bulk.
Quality
A significant benefit of screen printing is that the type of ink this technique uses is thicker than other printing techniques. Because of such composition, the print quality can withstand a lot of stress, so customers enjoy their shirts for a long time.
The Vibrancy of the Colours
Printing multiple colours need separate layers. And because of this, each colour can stand out on its own, making the output harder to replicate.
Efficiency
Silkscreen printing has a straightforward process for different styles, whether manual or automated. The setup is simple, and the printing is faster, making it time and cost-efficient, especially for businesses looking to mass-produce a particular design.
Reliability
Since screen printing is a popular technique, many trusted suppliers and service providers are available in the market today. For instance, screen printing in Montreal is a prominent service offered to other businesses. Now, it's only a matter of partnering with the right one.
Pro Tip
"If you prefer sharper, cleaner lines and more well-defined details on your shirts, you can never go wrong with silk screen printing."
Silk-Screened Shirts for Your Business
Despite having many digital counterparts in the modern world, silk screen printing is one method that continues to stand the test of time. And if you're looking to join the t-shirt printing industry, R&P Prints is the right partner for you!
R&P Prints offers custom screen-printing needs on a wide range of quality garments and other items for your business. Contact R&P Prints for quality screen printing in Toronto, Vancouver, Montreal, and other major Canadian cities.
If you're looking for custom silk-screen-printed t-shirts for your business, contact R&P Prints for a free quote.
FAQs on Your Guide to the Many Benefits of Screen Printing
What are the types of emulsions used in silk screen printing?
The three main screen emulsion types are Diazo Screen Printing Emulsion, Pure Photopolymer Emulsion, and Diazo Dual Cure Emulsion.
Is silk screen printing best for bulk t-shirt orders?
Because of the straightforward screen printing process, suppliers can offer cheap costs for bulk orders.
What is the rubber blade used in silk screen printing called?
It's called a squeegee, which helps spread the ink evenly through the screen mesh and onto the surface.