The 5 Most Iconic Rock Band T-Shirts of All Time
Posted on 13 July 2021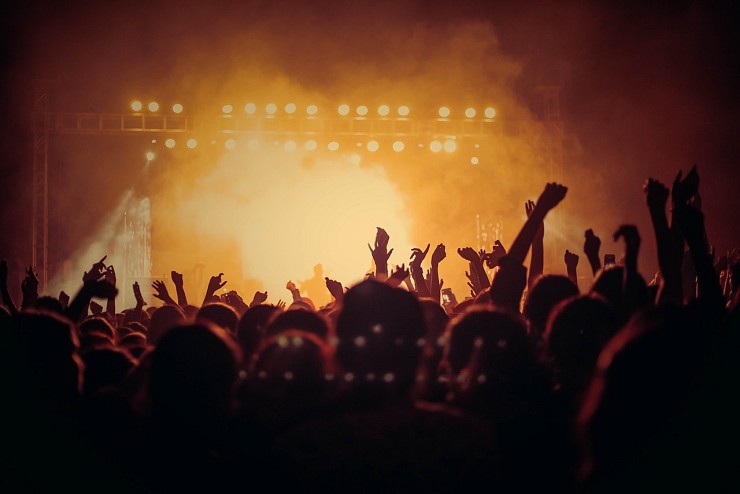 A band t-shirt is more than just the material it's printed on; it's a statement piece that has a massive impact on both the band and the fans.
If you're a musician, band merchandise is the lifeblood of your tour. According to the Brag, merch sales make up 10–35 percent of the average touring artist's total revenue. How is that possible? Think of it this way: While it would only take selling one shirt after a gig to earn $20, it would take you 4,580 streams on Spotify to earn $20.
As a fan, merch is a fun memento of seeing your favourites in concert, giving you subtle bragging rights for attending a legendary tour. Even if you didn't manage to catch them live, your band t-shirt shows off your musical stripes to the world.
Most bands design logos that act as a cool badge of honour for a small group of fans. But only a handful of truly great designs move beyond these indie circles and become a part of popular culture. Today, we're shining a spotlight on the bands that have transcended the merch table with unforgettable designs.
We all have our favourites, including us here at R&P Printing. Over the years we've been t-shirt printing in Canada, we've helped plenty of artists — big and small — silk screen or embroider their logos onto tees, hoodies, and accessories. But we can all agree that these five iconic band shirts deserve the spotlight.
5. Guns N' Roses — Roses and Revolvers
We're starting our list with a bang, awarding the fifth spot to Guns N' Roses, the American rock band headed by Axl Rose and Slash. When drummer Steven Adler sketched out the idea for this simple design in 1987, he had no idea it would become the official GNR stamp for more than 30 years.
Still used today — that's right, GNR is back in stadiums around the world with their Not on Your Lifetime Tour — the now-iconic golden circle is their most popular design to date. The ornate symbol perfectly encapsulates the band, as the thorny stems of two red roses wrap around two old-fashioned revolvers.
4. AC/DC — The Lightning Bolt
The best designs are always unassuming. Think of the Nike swoosh or Apple's bitten apple. They're simple, crisp, and instantly recognizable to anyone who sees them. The same goes for any rock fan who spots AC/DC's legendary red lightning bolt on a t-shirt.
Graphic designer Gerard Huerta created one of the most familiar logos in rock n' roll in 1977 for the band's Let There Be Rock album. Its title track, a story of biblical proportions about rock's origins, inspired Huerta to use the Gothic typography first used in the Gutenberg Bible.
When it comes to this particular t-shirt design, the logo is also a clever nod to the band's origins. Brothers Angus and Malcolm Young claimed AC/DC as their name in 1973 after seeing the initials on their sister's sewing machine.
Short for Alternative Current and Direct Current, A.C. and D.C. refer to the different kinds of currents in a circuit. The Young Brothers thought it represented the electric energy of their music, and the rest is history.
3. The Ramones — The Presidential Seal
We're cracking off the top three with The Ramones, who earn their spot for having sold more t-shirts than albums. That's no dig on a band whose members are considered the grandfathers of punk-rock but a testament to how transcendent good design can be.
The legendary presidential seal was designed by honorary Ramone brother Arturo Vega in 1976. Although Vega was the band's archivist, creative director, and the unofficial "fifth" Ramone, he was a fan first. He thought The Ramones were the all-American band despite being punk underdogs at the time, so he used the U.S. presidential seal as the basis for their logo.
Now, fashionable stores around the world silk screen tees with the seal, proudly displaying the founding members of the Ramones: DeeDee, Johnny, Tommy, and Joey. While few know the punk-rock origins of these names, there's no denying the cultural impact their logo has made.
2. Nirvana — The Smiley Face
Our runner-up is Nirvana, the revolutionary band that helped catapult Seattle's grunge scene onto the international stage. The yellow punch-drunk smiley face, which has 'x's for eyes and its tongue sticking out, is instantly recognizable — whether you're a fan or not.
The t-shirt design has been emblematic of the band since its sophomore album Nevermind came out in 1991. Since then, it has gone onto grace bumper stickers, wallets, hoodies, toques, and more. However, there is some controversy surrounding its origins.
While many people believe frontman Kurt Cobain drew it — a claim upheld by the surviving members of the band Dave Grohl and Krist Novoselic — a recent lawsuit reveals Robert Fisher, a graphic designer, may have been hired to design the logo.
The legal battle over the iconic smiley face is still ongoing, but whoever you believe, it's clear the smiley face is one of the most popular t-shirt designs of all time.
1. Rolling Stones — The Famous Lips
And now, our top spot for the most iconic band shirt of all time goes to the Rolling Stones and their lips logo. After all, what's more rock and roll than sticking out your tongue?
Originally appearing on the Sticky Fingers album, the iconic open mouth and lolling tongue has become the most ubiquitous band logo ever. Official and unofficial sources have gone onto silk screen tees, hats, jackets, hoodies, and posters with bright red lips.
Many people mistakenly attribute the mouth to pop artist Andy Warhol, but true fans know it was English graphic designer John Pasche who created the logo. Pasche was chosen after Mick Jagger solicited the Royal College of Art in 1970 for help creating artwork for their upcoming album.
You might also mistakenly believe the mouth was a playful reference to Jagger's famously large lips. While this is a popular fan theory for obvious reasons, Pasche's real inspiration was Hindi goddess Kali.
Since the 70s, the lips have been The Rolling Stones' official logo. That's more than half a century of staying power, which is why it earns the coveted top spot on our list.
Are You Feeling Inspired?
If you're a band ready to make your merch dreams come true, we can help print the best custom t-shirts for when you're back on the road touring. Our team proudly screen prints the best custom t-shirts Canada has to offer, and we offer free estimates and delivery to make the process as easy as possible.
Use our list for inspiration — remember the best designs are simple yet dynamic representations of your band. Start brainstorming ideas before you contact us for all your bulk t-shirt printing needs!