Cool Halloween Apparel that Fits the Budget!
Posted on 26 September 2017
Looking for cool Halloween apparel for you and the kids? You'll spend time and money trying to find the perfect costume only to have it rip the moment your child puts it on. Instead of wasting your time travelling between the mall and speciality stores, you can get custom Halloween apparel made easily through R&P Prints.
From superheroes to Disney characters: Create the perfect kids' halloween apparel
Kids can be picky. One minute they're into Captain America, the next it's Moana. It can be impossible for them to choose just one costume. You'll spend a pretty penny buying your children the costumes they want if you buy from a store. However, when you purchase cool Halloween apparel from us, you get quality clothing that your child can actually wear again. We print on some of the best materials in the garment industry so you get a clothing that can withstand many washes. Instead of getting your child a cheap Halloween costume that you'll have to throw out, get them an R&P Prints printed apparel they'll love for years to come (or until they grow out of their love for Captain American and Moana; at that point you can get them new Halloween apparel from R&P Prints).
Screen print your own Halloween apparel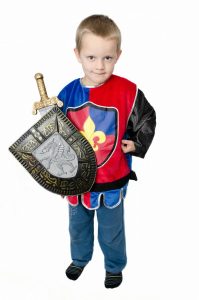 Adults need cool Halloween apparel too! If you've got a party to go to, you'll want to look your best, specifically if there's a costume contest with a fun prize. We can screen print anything you want onto our activewear, T-shirts, hats, jackets and pants. Plus, you get quality clothing you can wear again at the right price. With Halloween on the horizon, many costume shops hike up their prices because they know people will leave their shopping until the last minute. Conversely, if you order your Halloween apparel from R&P Prints you won't spend an arm and a leg to look amazing at your Halloween party. Whether you want a full suit made or just a single item, we'll get you exactly what you need to have a great Halloween and maybe win a costume contest or two.Cool Halloween apparel for everyone!
We offer free shipping across Canada and you save money when you purchase apparel in bulk. This is especially useful if you're planning a group costume for you and your family or friends. The Halloween themed apparel possibilities are endless when you put your Halloween ideas in the hands of our creative graphic design team. We can screen print designs on to shirts: everything from Dracula to Little Red Riding Hood, witches and zombies to popular Disney characters. Super heroes are always popular around Halloween and we can replicate the entire looks of your favourite comic book heroes and villains. No matter if you're looking to scare trick or treaters or emulate your favourite band's aesthetic, we'll make it happen.
R&P Prints is your one-stop-shop for cool Halloween apparel. Contact R&P Prints today so we can make your Halloween apparel a priority. Halloween's around the corner and your perfect costume is waiting.