How to Design Custom Shirts for Your Thanksgiving Events
Posted on 03 October 2022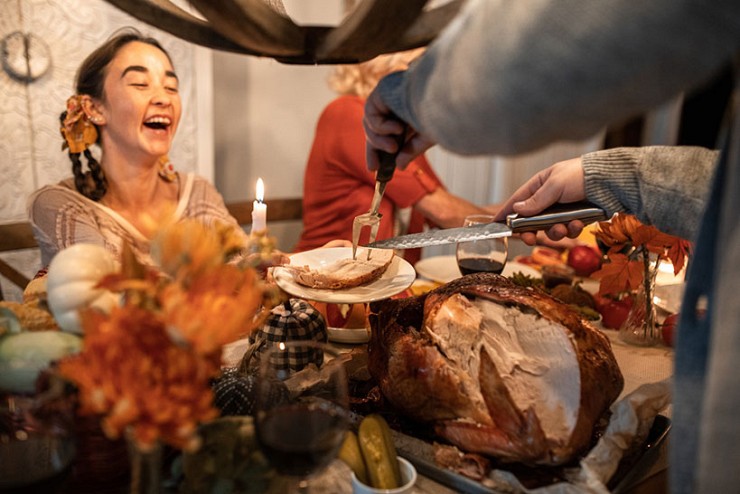 It's that time of year again when the leaves change colours, the weather starts to cool and the holiday season begins. The first of these holidays is Thanksgiving, the time to get together with family and friends, reflect on the blessings we're all grateful for, then eat, drink and be merry!
One of the best ways to commemorate your thanksgiving event is by designing and printing custom t-shirts, long sleeves, hoodies, hats or bags. While this may seem like a complicated and expensive proposition, it's not when you partner with R&P Prints Canada! With our intuitive online design tool, in-house consultants and online order processing, the work of designing, printing and creating a wholesale t-shirt order couldn't be simpler. And we're proud to offer competitive prices and low minimum orders to suit every Thanksgiving event size and budget.
So whether you're planning a corporate thanksgiving event, are in the business of designing and selling custom apparel or are hosting or attending a family get-together, below are some of the advantages of printing custom shirts for your Thanksgiving event and some tips to get you started.
Designing Custom Shirts for Corporate Thanksgiving Events
From charity events to team-building exercises to dinners, there are several Thanksgiving events for which custom shirts are a great fit. Let's take a closer look at each of these examples.
Getting Your Business Involved in a Thanksgiving Charity Event
One of the best ways to raise awareness (and revenue) for both your business and a social issue or charity/non-profit organization aligned with your company's values is to volunteer or host your own Thanksgiving charity event. Ideas include:
An annual Thanksgiving Day marathon or sporting event.
Raising money for a local food bank through a charity drive, bake sale, etc.
Volunteering at a soup kitchen, church or any other venue that feeds those in need.
Not only do you help make the world a better place, but with screen printing designs featuring the charity/event and your company logo for your staff and volunteers to wear, you also benefit your business in the following ways:
Excellent PR and brand association for your business at the event.
A more seamless Thanksgiving Day event as the shirts help identify event staff to both your guests and each other.
Creating a sense of camaraderie amongst your team of volunteers at the event.
Walking billboards for your business after the event as the volunteer team wear their shirts when they run errands, do chores, go to the gym, etc. You can also give away shirts (or other swag) at the event to attendees for exponentially more exposure for your business.
Volunteer events and charity work are proven to strengthen relationships within your team, reduce employee turnover and help your team learn new skills.
But Thanksgiving charity drives aren't the only team-building opportunities from which your business can benefit from custom shirts that celebrate the event.
Designing Custom Shirts for a Thanksgiving Day Team-Building Event
Whether you rent out a panic room facility, create a scavenger hunt or organize an obstacle race, a Thanksgiving-themed team-building event can help you make the most out of the holiday by celebrating Thanksgiving while strengthening relationships within your staff. Custom shirts, in general, take your event to the next level, while providing custom-made shirts in different colours for each team is a must for competitive events.
*Pro Tip – If you are creating a team-based competition, it's a good idea to mix it up and create teams of employees who don't work together. This helps build inter-departmental relationships.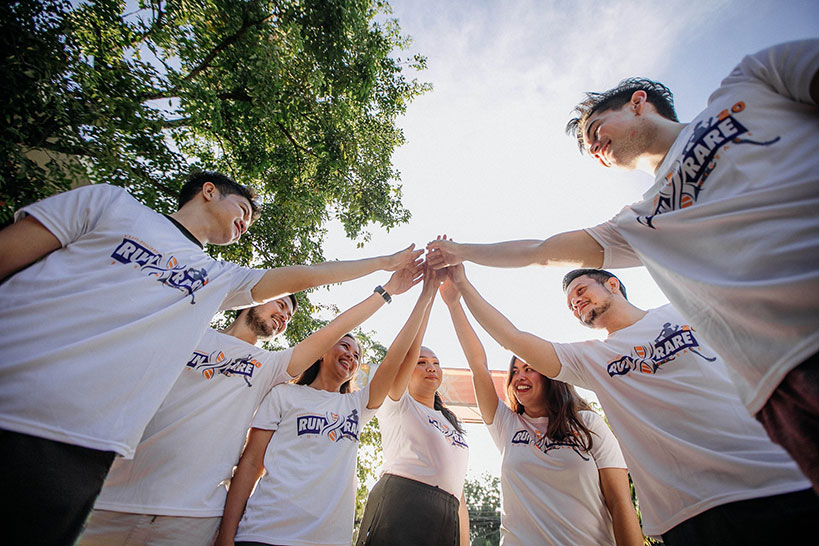 Custom Shirts for Your Company Thanksgiving Dinner
Make your company Thanksgiving Day bbq, picnic or dinner an event to remember by designing custom branded shirts and other swag to commemorate the get-together. Not only do your team get a keepsake that helps them fondly remember the company, but if your gathering is held in a park or restaurant, the general public, including potential talent and customers, are also exposed to your business in a favourable light as your custom Thanksgiving Day event shirts portray the closeness of your team.
Designing Thanksgiving Day Shirts for Your Custom Apparel Business
If you already create custom apparel professionally, Thanksgiving Day is an excellent opportunity to make sales.
There are several Thanksgiving weekend events and activities for which you can design and sell custom shirts, including:
Parades.
Flag football games and other sporting events.
Charity Events and fundraisers.
Black Friday (in the US).
Thanksgiving Day itself.
Just be sure to reach out to event organizers and the municipal licensing office if you plan on selling shirts at a public Thanksgiving Day event.
Custom Shirts for Your Family's Thanksgiving Get-Together
Surprise your family and friends by showing up to your Thanksgiving dinner with shirts custom designed for the occasion, and you become an instant hero to the children and adults alike. Not only do they add fun to your gathering and give the attendees something to remember the good times with, but your social media posts from the event will look that much cooler.
Tips on How to Design Custom Shirts for Your Thanksgiving Events
Visit our blog post to get more detailed tips for custom shirt designs. Below are a few suggestions on how to design shirts for your Thanksgiving events:
Choose your shirt colour(s) carefully. If you're including your company logo (and those of a non-profit organization, for example) in your design, ensure that the base colour does not clash or conceal part(s) of the logo.
You may want to avoid white shirts. White shirts can look plain, and they stain easily (especially at a Thanksgiving dinner!), making them less likely to be worn after the event.
Keep your local climate in mind. You may want to consider long sleeve shirts or hoodies to maximize the possibility that they'll be worn year-round.
Choose plenty of size options.
Last but not least, Thanksgiving themes like turkey, the fall harvest and overindulging provide several ways to get creative with funny or cute sayings and graphics. Remember that, in general, Thanksgiving Day events are also about fun, and your shirts should be too!