What Is Screen Printing, And How Does It Work?
Posted on 31 January 2018
You give us a design. A little time passes. You get a perfectly screened piece of clothing that will last you a long time. But wait, how did it all happen? We understand that much of what we do here at R&P Prints may seem mysterious to the average person – that the large industrial machines we work with look like something from a spacecraft! That's why, in this post, we're going to answer for everyone a very basic set of questions: what is screen printing, and how does it work?
The History
A form of stencilling, screen printing can trace a line of origin back to ancient China when it was used on silk mesh to create elaborate textile patterns. In its more modern form, it has an unlikely figure to thank for its surge in popularity: Andy Warhol. You're probably familiar with Andy Warhol's famous Marilyn Monroe portraits, but what you might not know is that he did them using screen printing, thereby popularizing the process and moving it into the mainstream. Warhol's period in American history was all about sharing art and ideas, and screen printing allowed people to replicate art on a variety of mediums.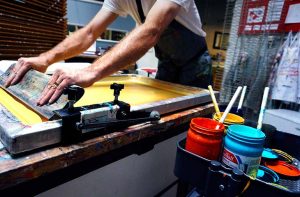 Then, in 1960, it took a couple of enterprising businesspeople – the husband and wife team of Fannie and Michael Vasilantone – to capitalize on screen printing's industrial potential, creating new machinery and manufacturing standards for creating amazing, screened clothes. This ushered in the modern age of screen printing, and even up here, our custom screen printing in Toronto is, in its own way, indebted to that husband and wife team of trailblazers.
The Process
Basically, the process starts with a stretched section of mesh pulled to the correct tension over a frame. The smaller the apertures in the mesh, the finer the detail will be on the final product. A stencil of the design's negative image is then laid down, leaving only the parts of mesh exposed that will form the image. A squeegee then runs ink over the mesh and stencil, with the textile below, pushing a fine amount of ink onto the textile and thereby creating the design. Of course, this is a big simplification of a multi-step, careful process that requires different colouring and layering, but this is a basic introduction after all! Contact us anytime if you're curious to learn more about how we screen print here at R & P Prints.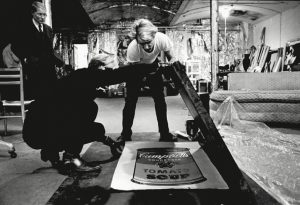 The Need For Quality
Of course, the history and the basic process only gets you so far – at the end of the day, you need very high quality machinery and materials, as well as skilled operators, designers and associates to pull off a great screen printing. Whether we're doing backpacks, athletic wear, custom t shirts for ladies or men – you name it – we put in a level of focus and passion not matched elsewhere. Not only that, but we do it all on a fast turnaround time for the best prices in Canada.
Screen printing started as an art form back in the Song Dynasty in China, and was continued as an art form by Andy Warhol in the 1960s. Today, we continue that artistic tradition to bring you and your business, brand, sports team or event, the best possible screen printed clothes, using skilled techniques and high-caliber material. Hopefully this article has been educational – we're keen to spread our passion and knowledge about screen printing to whomever wants to know. If you're looking for a promotional item that's both artistic and practical, we've got you covered!