Tips for Creating Group-Themed Halloween Costumes
Posted on 16 October 2023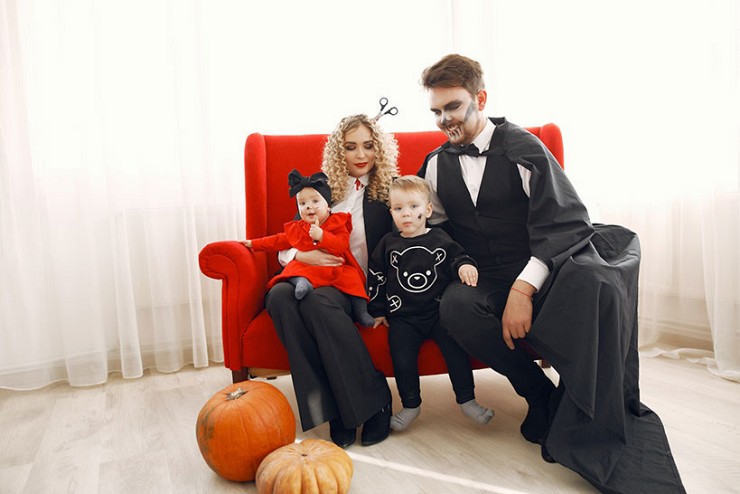 Halloween Is a fantastic opportunity for friends and family to come together, create a buzz, and showcase unity through group-themed outfits with the latest costume trends. This kind of coordinated costume caper not only adds a fun twist to the holiday but also makes lasting memories. But how do you go about creating the perfect group-themed Halloween costumes or Halloween-themed outfits for staff? Read on for tips and unique Halloween costume ideas that'll ensure your group stands out this Halloween.
1. Start with Brainstorming
Any great themed outfit begins with an idea. Begin by brainstorming DIY Halloween ideas. Whether you're drawing inspiration from recent movies, pop culture costumes, iconic eras, or even character costumes, it's essential to gather all ideas. A brainstorming session helps incorporate everyone's suggestions, ensuring everyone takes part in the fun.
2. Choose a Cohesive Theme
After the brainstorming session, narrow down your options. The key to a successful group-themed outfit is a cohesive look. Decide on a theme that aligns with current costume trends. Maybe go for character costumes from a trending show, or perhaps opt for brand logo costumes. Whichever theme you choose, consistency is key. Ensure the theme is clear and consistent across all outfits so as to be instantly recognizable.
3. Plan Ahead
Once you've settled on a theme, start planning. Group-themed outfits, especially if you're designing your own t-shirts for screen-printed costumes, require time and resources. Set a budget, create a timeline, and assign roles. Having a plan in place will reduce last-minute stress.
4. Opt for Custom Apparel
Considering unique Halloween costumes? Think screen-printed costumes. As a supplier of bulk custom t-shirts, we specialize in both screen-printed and embroidered apparel, and our orders start as low as 12 pieces. Custom designs ensure you get the precise look you're going for and that your group stands out, and it's more affordable than you might think.
5. Use Accessories to Enhance the Look
A great outfit isn't just about the main piece of clothing. Accessories can enhance the overall theme. Hats, jewelry, glasses, makeup, and other adornments can tie everything together, elevate the overall effect, and create a fashionable Halloween look.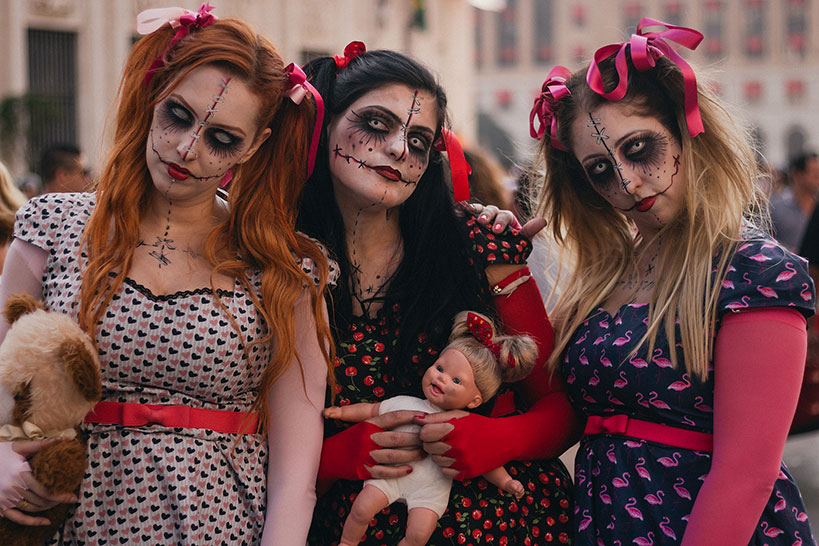 6. Ensure Comfort
While you aim for those easy Halloween costumes, ensure your comfort isn't compromised. Consider factors like the weather – if Halloween night is cold, you'll want to choose warmer apparel or layers. The more comfortable everyone is, the more fun they'll have.
7. Coordinate Colors
Colour is a powerful tool in creating a cohesive look for your costume ideas. By coordinating colours across outfits, you can make even different clothing pieces feel like they're part of a unified costume theme.
8. Remember Size Variations
When ordering costume pieces from custom screen printing services, it's crucial to remember that people come in various shapes and sizes. Ensure you've accurately taken everyone's sizes before placing an order, especially if going for custom apparel.
9. Incorporate Variety
While you want a unified look, individual variations within the theme can add depth and interest. For example, if your theme is "zoo animals," each member can wear character costumes of different animals, while still adhering to a unified style or colour scheme.
10. Hold a Fitting Session
Before the big day, gather your group for a fitting session. This allows everyone to try on their outfits or screen-printed costumes, ensure a proper fit, and make any last-minute adjustments. It's also a fantastic bonding opportunity for the group.
11. Use Social Media
In today's digital age, a group-themed Halloween outfit is bound to get attention. Use social media platforms like Instagram or Facebook to showcase your unique Halloween costumes. It can be a great way to share your creativity and potentially inspire others for their group-themed outfits.
12. Stay Flexible
While you might have a clear vision, remember to stay flexible. Things might not always go as planned. Maybe a shirt colour is out of stock, or a particular accessory isn't available. Adaptability ensures your group stays positive and still achieves a memorable Halloween look.
Unique & Easy Halloween Costume Ideas for Groups
Incorporating screen-printed apparel dressed up with makeup, wigs, and accessories is a fun and convenient way to create DIY Halloween costume ideas. Here are some costume ideas that utilize screen-printed shirts, sweaters, or hats:
Famous Brand Logo Costumes
Soft Drink Cans. Screen-print the logo of a popular soft drink on a shirt. Pair it with matching pants and maybe even a hat with a soda tab design, and you and your group can celebrate Halloween as your favourite 6- or 12-pack.
Fast Food Employees. Screen-print a fast-food brand's logo (real or fictitious) on a shirt or hat. Add name tags, and you and your friends or family can pretend to be a fast food crew.
TV and Movie Character Costumes
Dunder Mifflin Employees (The Office). A simple shirt with the Dunder Mifflin logo is pretty much all it takes to go to a Halloween party or trick or treating as the most famous warehouse staff on Earth.
Central Perk Baristas (Friends). With a shirt or apron with the Central Perk logo on it, you and your group can dress up as Gunther, Rachel, Joey, or random Central Perk employees!
Sports and Games
Bowling Pins. Your group wearing white shirts screen-printed with red stripes at the neck and white pants is a fun and easy costume idea.
Rabid Sports Fans. Screen-print a shirt or hat with a fictional team's name and logo and add face paint in the team's colours for a creative group costume.
Wordplay and Pun Costumes
French Kiss. You and your group can show off your wit by wearing shirts screen-printed with the Eiffel Tower paired with face makeup resembling the band members of KISS.
Emojis
Select a popular emoji and screen-print its design on shirts or sweaters, and you and your friends can bring ROFL or LOL to life.
Classic Halloween Themes
Skeletons. With everyone wearing a black shirt with a ribcage and bones screen-printed on it and black pants, you and your group have an easy DIY costume. You can also add makeup to recreate the famous Karate Kid, 'Johnny and his bullies'-character costumes.
The costume ideas are endless. A few of the benefits of screen printing pieces of your Halloween costume are that you can easily customize it to your liking, add personal touches, or come up with group-themed outfits for a coordinated look. Plus, the convenience of wearing a regular piece of clothing ensures comfort throughout your Halloween festivities.
In Conclusion
Creating a group-themed, unique Halloween costumes requires coordination, creativity, and a touch of flexibility. By planning ahead, looking into costume trends, incorporating custom, screen-printed costumes, and ensuring everyone's comfort, your group is sure to make a lasting impression this Halloween.