Office Holiday Gifts: How to Surprise Your Colleagues with Custom Shirts and Sweaters
Posted on 09 December 2022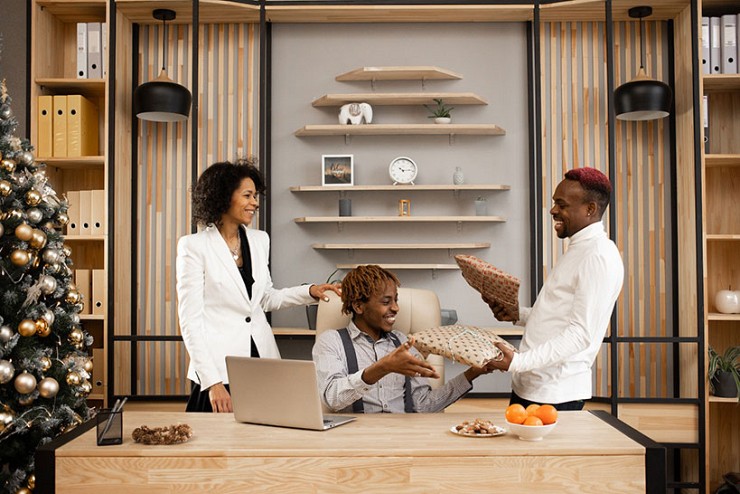 It's that magical time of year again when people find joy in giving, family and friends reunite, and people are willing to help out perfect strangers. If you're looking to spread your own brand of joy this year, look no further than the person sitting across from you at work.
Sure, most offices hold a Secret Santa where everybody buys someone a gift, and it's fun trying to figure out who bought yours and to learn why they chose the gift they did. But if you've got the holiday spirit and you want to spread joy in the office, why not design custom apparel and surprise your coworkers with warm hoodies for winter?
You don't have to be a professional designer; your shirts or sweaters can have funny sayings on them, inside jokes, nicknames, first names of your coworkers or images you upload. Whatever it is, if your mission is to surprise your colleagues and put smiles on their faces, it's a pretty safe bet that a custom shirt or hoodie will get the job done. And the best part? They'll have that gift to remember you by for years to come.
A Brief History of Custom Gift-Giving
When you think about the idea of giving somebody a gift to show your appreciation for them, it only makes sense that it comes from the heart; and fewer things are more heartfelt than those we put thought, time, effort and care into.
So it should be no surprise that the first recorded gifts in history were also custom-made. Here's a brief lesson on the history of gift-giving.
We Got It From Our Parents
According to paleoanthropologist Ariane Burke, our ancestors were exchanging symbolic objects between 35,000 and 10,000 years ago. They were often made of decorated bone, shells, teeth, ivory, stones, tree bark or feathers. But don't let those materials fool you; they were engraved and pierced so they could be worn as necklaces and bracelets or sewn onto clothing.
Gifts as Tribute and Birthday Cake as Protection
While the ancient Egyptians were the first to give gifts to the gods for safe passage to the underworld, the ancient Greeks to it a step further and invented the birthday party.
Newborns in ancient Greece were given amulets to ward off diseases and evil spirits, whom the Greeks believed haunted them on their birthdays. To protect birthday boys and girls, the Greeks would give them gifts and well wishes. They would also light candles and blow them out for protection, and on the sixth of every month, they would offer a round cake (representing the moon) to the goddess Artemis with candles on it to symbolize the moonlight.
Gift-Giving Today
From ancient gifts to the Magi establishing Christmas gift-giving to Hallmark holidays, gift-giving has seen quite an evolution. And today? Millennials and Gen Z are mostly buying gifts online, but those gifts tend to be experiential and very personal, so gifting custom sweaters and shirts is right on trend!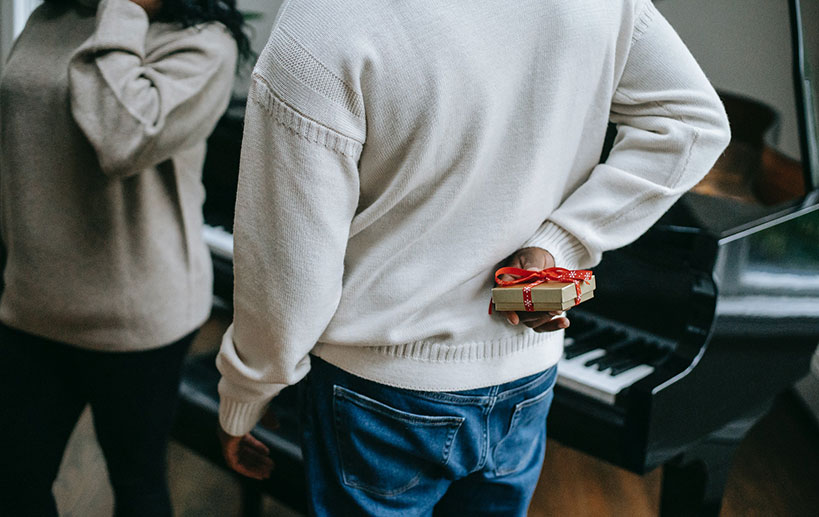 Tips for Finding the Right Christmas Gifts
One of the more stressful parts of the Christmas gift-giving experience is finding the right Christmas gifts. Here are a few tips to help you in your decisions:
If you're really stuck for ideas, go with what you know about them, hobbies, interests, etc., and get a gift that is part of that pastime.
When you know what to buy as gifts, write them down, so you don't forget. It's easy to get mixed up, especially if you have to go to serval places for a single gift.
Although your heart might be in the right place, don't go over budget with holiday gift-giving. The person you're buying the gift for would (hopefully) prefer that you don't go into debt for their gift.
When deciding between gifts, choose utility over esthetics. If the recipient of your gift uses it every day, they will appreciate it, and you, all the more.
Look for value purchases, i.e., stuff on sale; this can help you get more bang for your buck.
When You're Ready to Design Custom Shirts and Sweaters…
When you're ready to design your own custom sweaters and shirts, here are some tips if you've never designed custom clothing or used custom screen printing services before:
Getting the colours right is crucial; it's best not to use more than two or three colours. Keep in mind the colour of the shirt when choosing the colours in your print.
The more contrast between the colours in your design and the colour of the shirt, the more your design will stand out.
Think about the layout and spacing of your design. You don't want elements in your design either too bunched together or too far apart.
When placing your design on the hoodie, the optimal location is to have the design start approximately four inches from the collar, not centred to the front of the hoodie.
One final note, if you want to upload and use images in your design, they need to be at least 300 dpi for your custom shirt or sweater to look professionally designed.